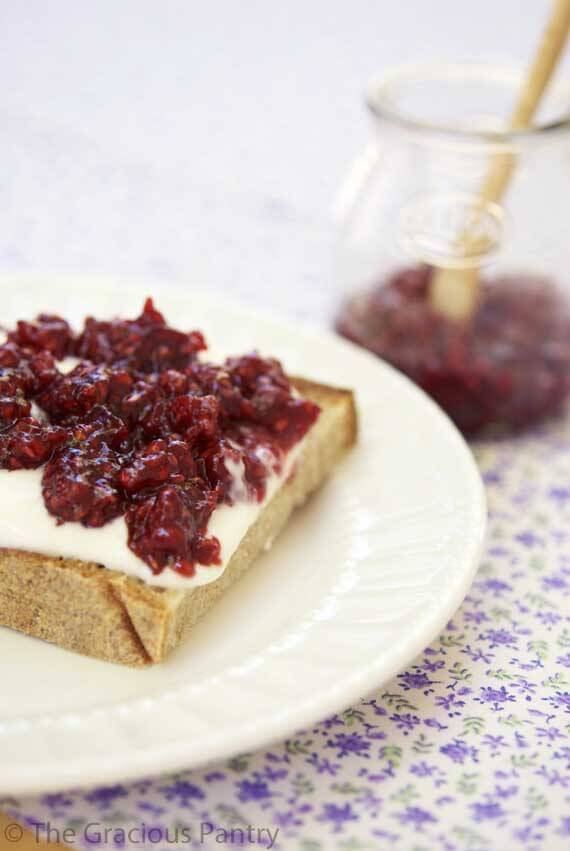 This time of year provides some amazing produce. Bright colors, bursting natural flavors, and pretty much unlimited opportunities to make clean and healthy dishes.
Raspberries are a favorite around here. In fact, it's pretty tough for me to keep enough of them around to actually cook something with because they get sucked down nearly whole by a small little munchkin man I know of. He loves fresh raspberries and I certainly love that he loves them! What mom doesn't want her child to eat lots of fresh produce?
But I did finally manage to have a few extra laying around recently, so I got in the kitchen quick before they disappeared. Needless to say, this raspberry butter disappeared almost as fast the fresh berries usually do. But at least I got a couple of licks off the spoon before it was gone.
YOU MIGHT ALSO ENJOY:

Clean Eating Raspberry Butter
Ingredients:
1 (6 ounce) package fresh raspberries
1/4 cup honey
2 cups water
1 teaspoon pure vanilla extract
Directions:
Combine all ingredients in a medium sauce pan and warm on medium heat until slightly watery. Watch closely so it doesn't burn.
Turn off heat and allow to cool for several hours. Transfer to a storage container and put in the fridge over night. It'll be ready for your morning toast.