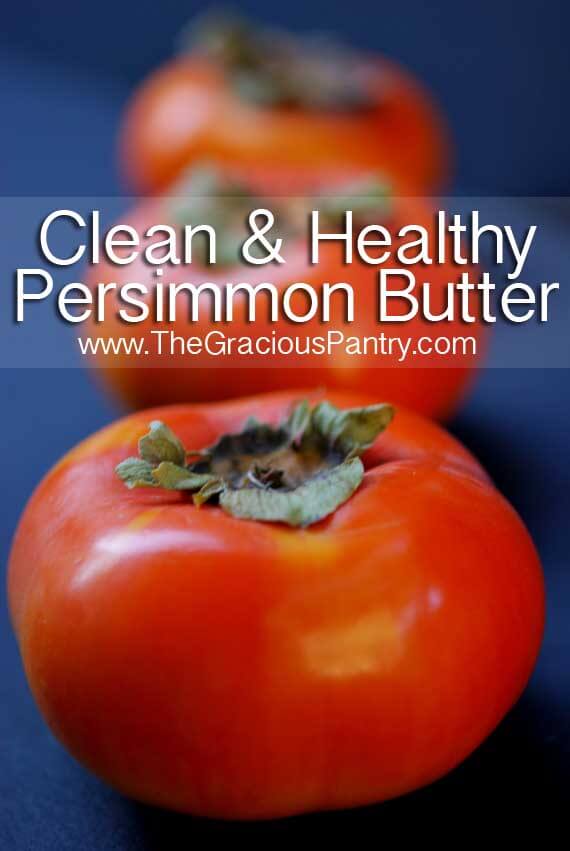 My sister-in-law has two persimmon trees in her back yard. Thanksgiving day, she sent me home with 8 bags…. that's right…. 8! I've made 6 crock pots of persimmon base, and I still have 7 bags to go. This is gonna be interesting.
In light of this, you will probably be seeing a lot of persimmon recipes here in the near future. Please forgive me, but I don't like to waste anything. So somehow, I have to get through all remaining 7 bags,
This is the first time I've ever made persimmon butter. And it certainly won't be the last.
The spices on this turned out a bit strong, so I think the next time I'll cut back a bit. But it's still really delicious. It has a "pumpkin-y"  flavor and texture. Really yummy.
YOU MIGHT ALSO ENJOY:
Clean Eating Persimmon Butter
(Makes approximately 3 quarts)
Ingredients:

Persimmons – enough to fill a 4 quart slow cooker when cut into fourths.
3 teaspoons pumpkin spice
6 cups water
1 cup honey (1 1/2 cups if you like things a bit sweeter)
2 teaspoons cinnamonDirections:
Clean and cut your persimmons and place in the slow cooker with water and dry spices. Cook on high temp over night. The next morning, they should be quite brown in color.
Directions:

Push the persimmons through a sieve into a large pot. Add the honey and bring to a soft boil. Continue cooking until you have a nice, overly thick "apple-sauce" like consistency.
Store in the refrigerator.
Side Note: My sister-in-law asked if I could make some persimmon jam for her to give to family as gifts this holiday season.
You can easily do the same by cooking the persimmons with only 2 tbsp. ground cinnamon in the crock pot. Push through the sieve and then boil 3 cups persimmon base, 1 cup water, 6 cups sugar and 1 package pectin in a large pot until you have a thick, boiled down liquid. Pour into jars and seal.
Grant it, this is not really a clean eating recipe, but if you have a lot of persimmons like I do, it makes for a great holiday gift.
Note: Nutrition data is not available for this recipe.