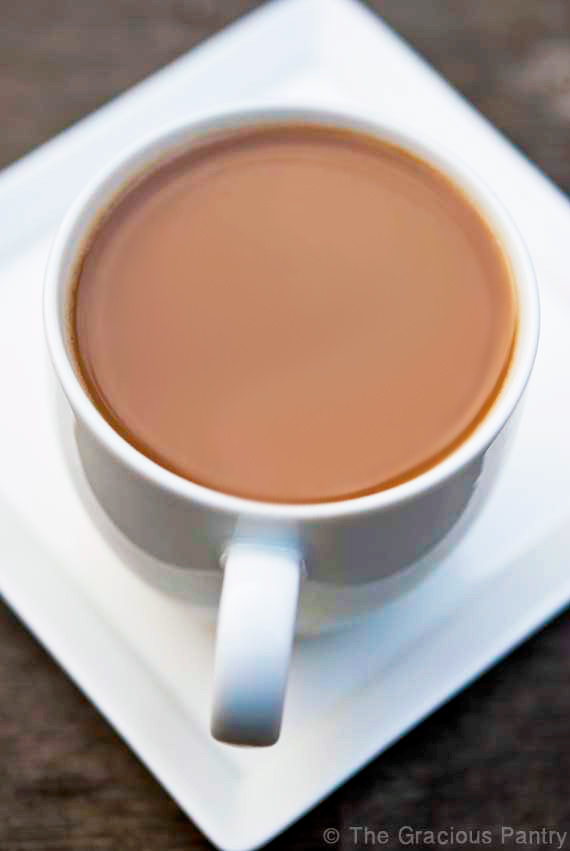 I have to be honest, I never had a peppermint mocha before creating this recipe. While I like peppermint, it's just not the first thing I look for when I purchase a warm drink. I never liked candy canes growing up either. As I got older, I learned to like it. But it's still not the first thing I go for.
However, after making this myself, I see what all the fuss is about. This is delicious!
My husband, on the other hand, could drink peppermint extract by the cup full. He puts it in everything and anything. So to say he was ecstatic about this recipe is an understatement. And yes, he loved it, and I hope you will too.

Clean Eating Peppermint Mocha
(Makes 2 servings)
NOTE: I use a french press. So the directions here reflect that. If you use a regular coffee machine, simply follow the amounts and put the coffee and other items into your filter. Be aware that this will only work in coffee makers that use the paper filters. Other types of coffee makers could get clogged by the herbs.
Ingredients:
2-1/2 cups boiling water
1 tablespoon dried peppermint leaves (you can add more if you like, but I found this amount to be just right for my taste.)
4 tablespoons coffee grounds
1 tablespoon unsweetened cocoa powder
Unsweetened almond milk to taste (you can use regular milk, but almond milk adds a wonderful flavor.)
Honey to taste (add this to your cup AFTER brewing)
Directions:
Steep the peppermint leaves, coffee and cocoa powder in the boiling water for at least 20 minutes for a good strong flavor.
Strain the liquid and pour in to cup.
Add honey to taste and serve.