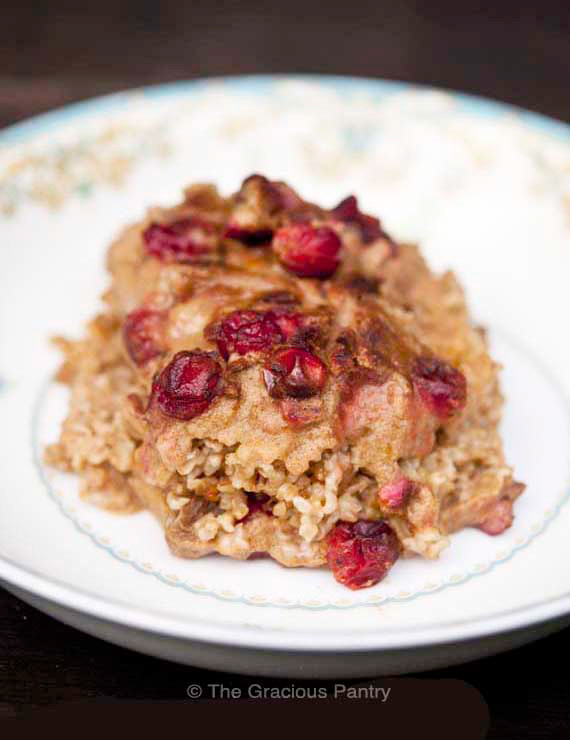 This Pumpkin Oatmeal Casserole is destined to become a family favorite. Start your holiday mornings off right with a big bowl of oats, pumpkin, cranberries and so much more!
This recipe was originally intended for my Clean For The Holidays cookbook (not yet published). But I love this so much, I just had to share it with you here.
It's the perfect casserole breakfast for a holiday morning. I love making this on Thanksgiving morning when I have to feed everyone AND be in the kitchen all day. It's quick, easy, and everyone asks for seconds. Whole grain goodness AND everyone loves it? Oh yes please. I need more of these in my life.
And yes, you can prep this the night before and store it in the fridge. Just add everything except the oats. You can stir those in last minute before putting it in the oven.
Happy holidays!

Clean Eating Pumpkin Oatmeal Casserole
(Makes approximately 12 servings)
Ingredients:
4 cups unsweetened almond milk
1 cup prepared pumpkin (canned or home baked)
1/2 cup pecan pieces
1 cup fresh cranberries
2 teaspoons pumpkin pie spice, no sugar added
1/4 cup honey
2 teaspoons vanilla extract
2 cups steel cut oats
1/2 cup golden raisins
Directions:
Preheat oven to 400 degrees F.
In a casserole dish (9×13), blend together the almond milk, pumpkin, pumpkin spice, honey and vanilla. Stir gently until completely combined.
Add the oats, pecans, cranberries and raisins. Stir briefly to combine.
Bake for 45 minutes or until the casserole is soft and cooked through.