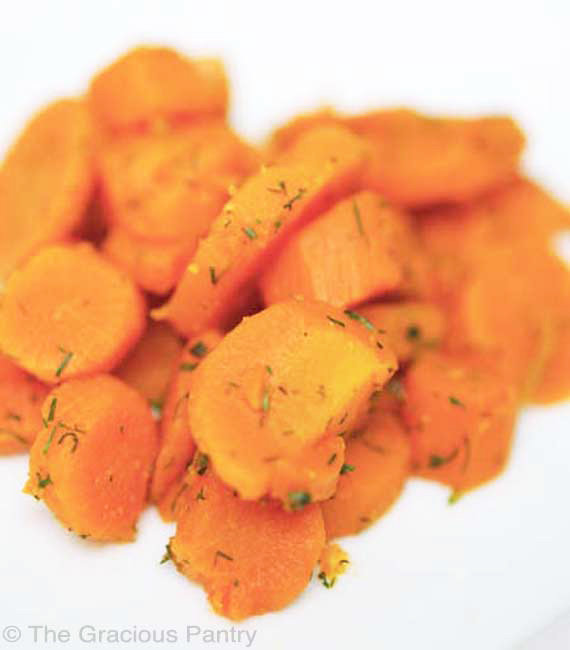 This is a recipe my mom made for me years ago. I was so impressed with it, I've been making it ever since. There's just something about a caramelized carrot that gets me salivating. The full-bodied flavor induces a fabulously tasty explosion in your mouth. Add a little dill and… man oh man, is it ever good!
The nice thing about this little side dish is that it's so easy and quick to prepare. You can also prepare it vegetarian or non-vegetarian to suit your needs.
This is my favorite way to eat carrots, and my little guy loves em' too!
YOU MIGHT ALSO ENJOY:

Clean Eating Caramelized Dill Carrots
(Makes 1 lb. of carrots)
Ingredients:
1 pound carrots
1 teaspoon dried dill (or 1 1 tbsp fresh)
1 1/2 cups chicken broth (veggie broth, if you are vegetarian)
2 teaspoons honey or maple syrup (optional)
Directions:
Peel and slice your carrots.
Put in a pot with chicken broth or water and boil with the lid off.
When the water is just about cooked out, reduce heat to low and allow your carrots to cook slowly (caramelize). Stir frequently so they get a little brown around the edges, but don't allow them to burn.
When the carrots have caramelized, turn off the heat and quickly stir in your dill (and sweetener if using) while the carrots are still very hot. Stir well.