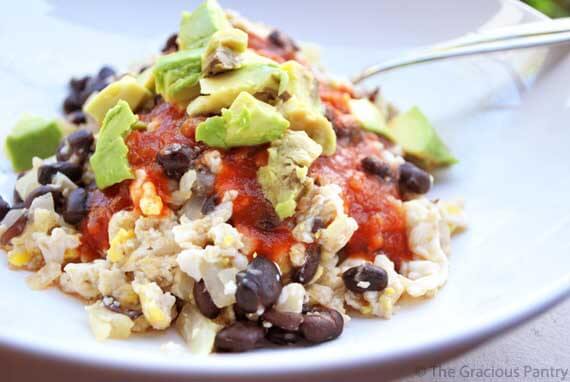 In my quest to get more protein into my diet, I'm finding lots of different ways to prepare my morning eggs.
I've never been a big fan of eggs in general, so I find that they are much easier to eat if I "dress them up" a bit.
I've also found that adding more protein to my diet requires more fiber. ~ehem~ So beans are the perfect addition to any egg scramble.
YOU MIGHT ALSO ENJOY:
Clean Eating Black Bean Scramble
(Makes 1 serving)
Ingredients:
4 egg whites
1/2 cup black beans
1/4 red onion – chopped ( I used white and I wish I had used red)
1/3 avocado
2 tablespoons clean salsa
1/2 teaspoon olive oil
Directions:
Saute your onions in the oil in a non-stick pan.
Add your eggs and scramble/cook.
Once eggs are near cooked, stir in your beans and cook just long enough to heat them up.
Transfer to a plate and top with salsa and avocado.
Nutritional Content:
Calories: 288
Total Fat: 10 gm
Saturated Fats: 1 gm
Trans Fats: 0 gm
Cholesterol: 0 gm
Sodium: 488 mg (This will vary depending on the beans you use)
Carbohydrates: 29 gm
Dietary fiber: 11 gm
Sugars: 2 gm
Protein: 23 gm
Estimated Glycemic Load: 10
Please Note: Nutritional information estimated at Nutritiondata.com. Data may not be accurate and is subject to the availability of specific foods in their database. Where one ingredient is not listed, substitutions must be used. Therefore, you should not refer to this data as being exact. It's more of a ballpark figure. The Gracious Pantry does not take responsibility for the inadequacies of the nutrition calculator used. This data is provided as a courtesy and general reference only. It is not exact.