If you need protein to start your day off right, try this Clean Eating Egg And Turkey Scramble.
I'm trying to get more protein into my mornings. Something about it just helps me keep my head clear all day. I find that if I eat carbs for breakfast, I often have a harder time waking up.
So I came up with this little concoction and I have to say that it's quickly becoming a favorite. Even Mini Chef begs for a bowl whenever I make it. I top his with marinara and mine with salsa. Such a great way to start the morning!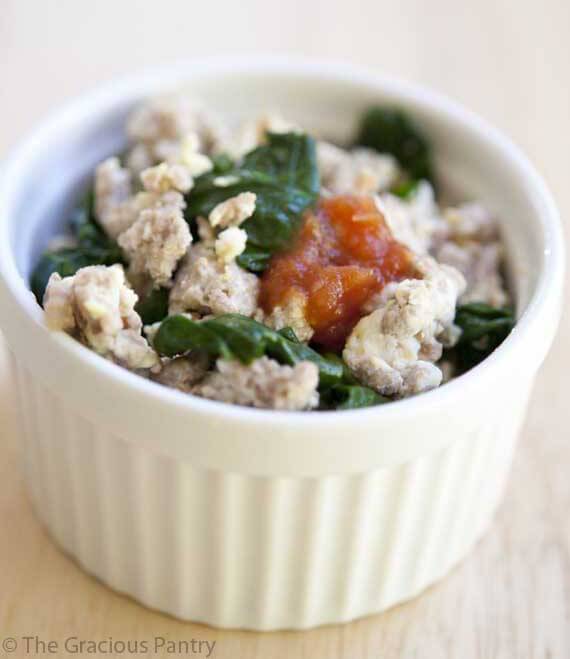 And if you eat low carb, this is a great way to get some veggies into your morning meal! Not always an easy thing to do on a low carb eating plan. But it is possible if you get creative! I try to get vegetables into all three meals (I no longer do the six small meals a day thing). It's a challenge sometimes, but I just feel so much better when I do. No matter what your eating plan is, veggies should always be a part of it, even if you have to trick yourself into eating them.
YOU MIGHT ALSO ENJOY THESE CLEAN EATING RECIPES:

CLEAN EATING EGG AND TURKEY SCRAMBLE RECIPE: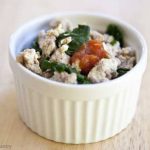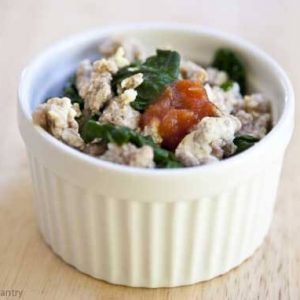 Clean Eating Egg And Turkey Scramble
I know, there are no measurements here. But that's as it should be. I never measure this either. I just make this based on how hungry I am.
Ingredients
Ground turkey meat

Eggs or egg whites

Spinach

Olive oil
Instructions
Cook the meat in the olive oil first.

Then add the eggs and spinach. Cook until everything is completely cooked through.

Top with your favorite salsa or marinara.

Recipe Notes
Please note that recipe nutrition data is not available for this recipe.