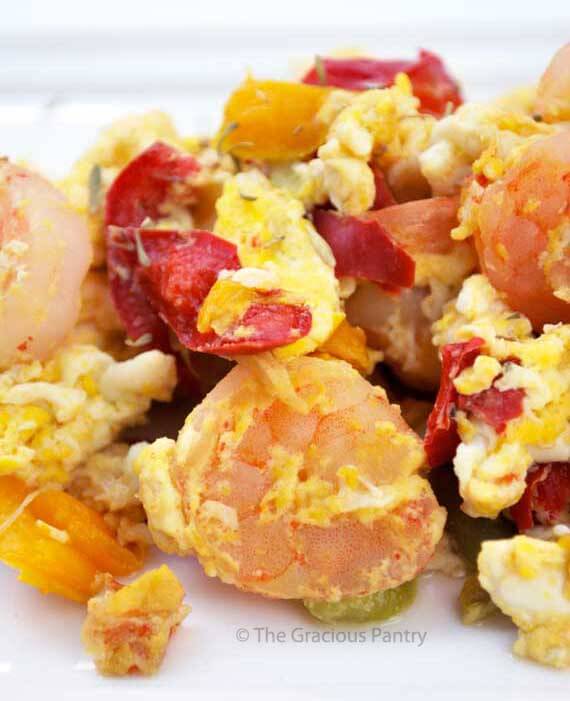 Shrimp and eggs. Yum.
I've had a bag of frozen shrimp staring at me from the freezer for at least a month now. It's been begging me to come up with a recipe because it knows how much I love shrimp.
Well, I finally gave in, and this was the result. This recipe is clean, simple, and quick to cook. And oh ya… it's delicious!
YOU MIGHT ALSO ENJOY:
Clean Eating Shrimp And Egg Scramble
(Makes 1 serving)
Ingredients:
4 egg whites
1/4 cup frozen shrimp
1/4 cup frozen mixed bell peppers (or 1/4 cup fresh peppers – chopped)
1/4 cup chicken broth
Directions:
Pinch of fresh thyme
Add all ingredients except for the thyme, to a non-stick pan.
Cook until all ingredients are cooked through.
Put your scramble on a plate, and sprinkle your pinch of thyme over the top.
Nutritional Content:
(Data is for entire recipe)
Calories: 186
Total Fat: 2 gm
Saturated Fats: 0 gm
Trans Fats: 0 gm
Cholesterol: 152 gm
Sodium: 512 mg – This will vary depending on the chicken broth used.
Carbohydrates: 5 gm
Dietary fiber: 1 gm
Sugars: 3 gm
Protein: 36 gm
Estimated Glycemic Load: 3
Please Note: Nutritional information estimated at Nutritiondata.com. Data may not be accurate and is subject to the availability of specific foods in their database. Where one ingredient is not listed, substitutions must be used. Therefore, you should not refer to this data as being exact. It's more of a ballpark figure. The Gracious Pantry does not take responsibility for the inadequacies of the nutrition calculator used. This data is provided as a courtesy and general reference only. It is not exact.