Healthy Super Bowl Recipes
The Super Bowl is here! This weekend, you might be in charge of bringing a healthy appetizer for your friends or family. Here are recipes for healthy super bowl snacks and food.
Game day is a big day for many in the US. Whether you are tailgating at a live game, or looking to fill your tummy at half time in your living room, healthy, delicious snacks are the way to go.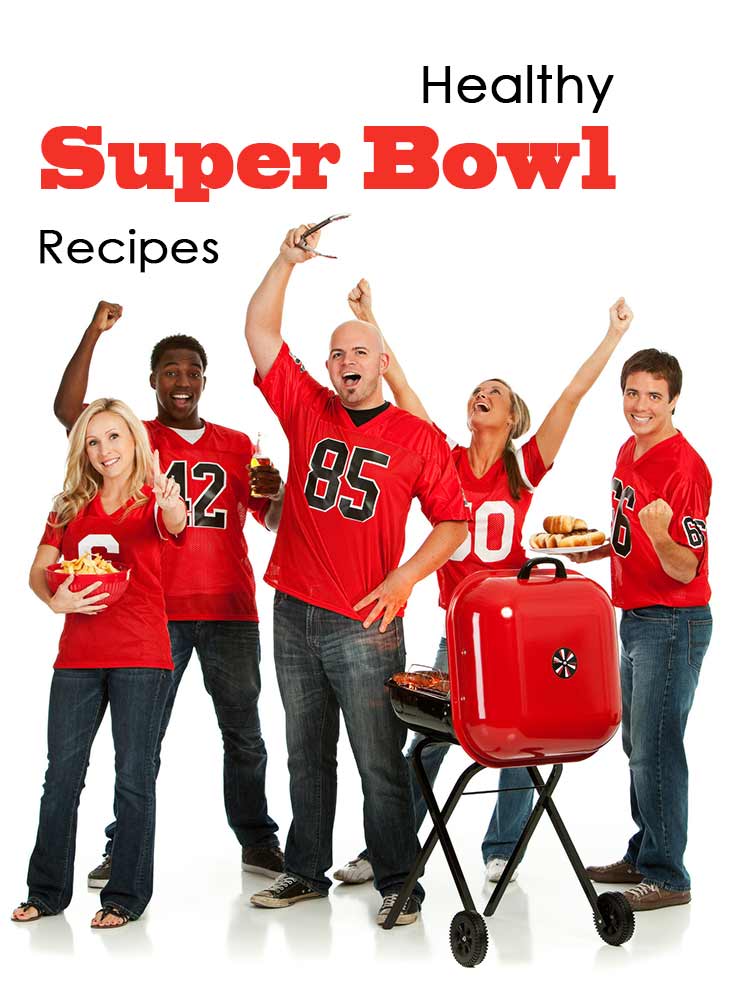 Plan Your Super Bowl Food
If you are hosting a Super Bowl party this year, you'll want to plan your food well. Things to consider are:
What types of food to serve – Keep servings small and bite-sized. Finger food is best, but not neccesarily the only thing you can serve.
How much food you'll need – A good rule of thumb is 1 lb. of food per person.
One main course is a good option – Try a big pot of chili and place smaller bowls of toppings all around it. Leave a stack of bowls and spoons next to that.
Communal Meals For A Super Bowl Party
Think family-style meals. Small bowls of things people can combine or enjoy in smaller, snack-sized amounts. Bowls of chili are typical, but the type of chili can vary widely.
Platters of finger foods are always great. Air-fried foods are wonderful for cooking in batches. This way you can make a bunch, serve it, and refill the serving dishes one batch at a time.
What Are The Most Popular Super Bowl Foods?
What are the top foods your guests might expect from your party? Here they are in ranking order.
Chips and dip
Chicken wings
Pizza
Nachos
Cheese and crackers
Cookies
Burgers and sliders
Buffet Bars
If you'd rather focus your food on a theme and let people "build their own" plates, here are some ideas for food bars.
Baked Potatoes Bar – Cook a bunch of small to medium potatoes in a slow cooker. Set that on the table. Then put a ton of baked potato toppings such as cream cheese in separate bowls on the table as well. At the end, set you air fryer with instructions to cook at 400 F. for one to two potatoes for about 1 minute (just long enough the melt the cheese because the potatoes are already cooked)
Nacho Bar – Set out quarter-size baking sheets with everything needed to top nachos. (A pot of chili can sit in a slow cooker on warm if you want chili nachos). Keep the oven going and place a post it note where it's visible to leave the temperature where it is (350 F.) and set the timer for 5-10 minutes. Just long enough to melt the cheese. This way, your guests can have fun building and baking their own personal tray of nachos and a good chunk of hosting stress comes off your shoulders. Here's a recipe for Nacho Cheese Sauce!
Chili Bar – This is a great time to break out your biggest slow cooker. Cook a big batch of chili, put some single-serving bowls on the table with spoons, and set out separate bowls or plates of chili toppings. Keep your slow cooker on warm so guests can serve themselves a warm bowl at any point.
Quesadilla Bar – Set out tortillas, plates of different sliced cheeses as well as any toppings your guests might like. This avocados or guacamole, sour cream, black beans, chopped tomatoes, onions, jalapeno peppers, lime juice or lemon juice, and more. Set an air fryer at the end of the table with instructions to bake at 400 F. for 1 minute.
Burger Bar – Prep and cook the patties ahead of time along with any burger toppings your guests might enjoy. Set them all on your buffet table individually and let your guests build their own burgers.
Bagel Bar – Set out a ton of different bagels and toppings such as cream cheese in different flavors, lunch meats and regular cheeses. You can even set an air fryer on your table in case somebody wants to melt cheese on their bagle. 400 F for 1 minute will usually do the trick in most air fryers.
40 Healthy Super Bowl Recipes
Here is a clickable table of contents to get you to what you need faster.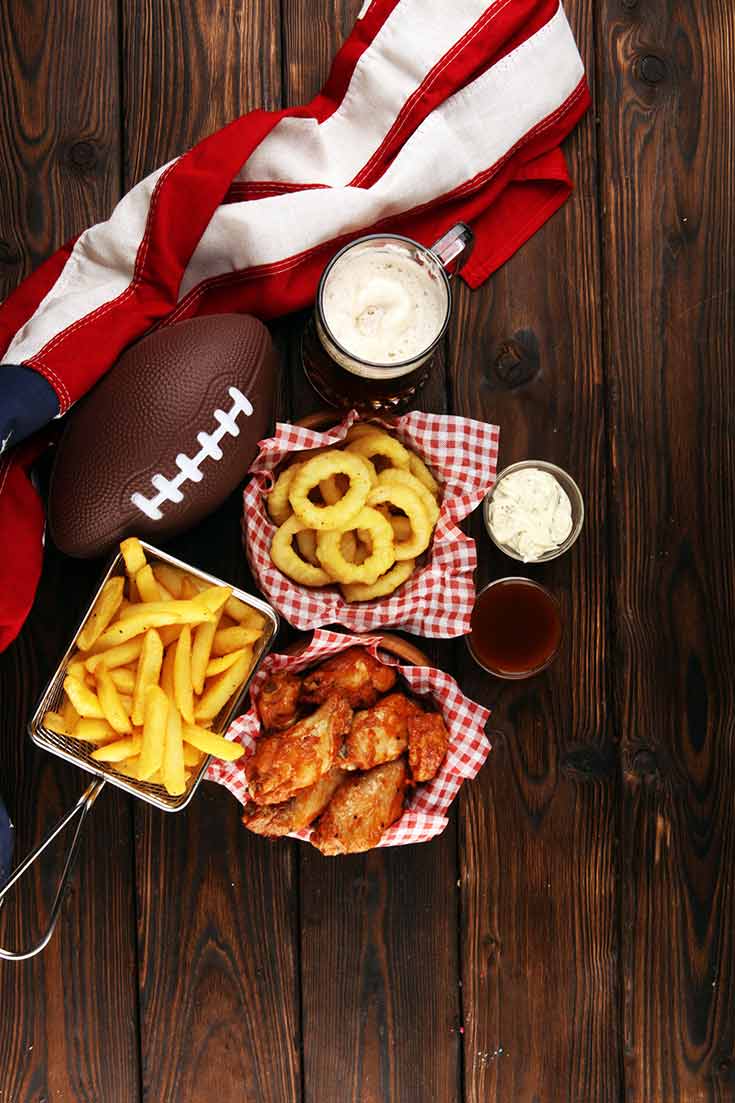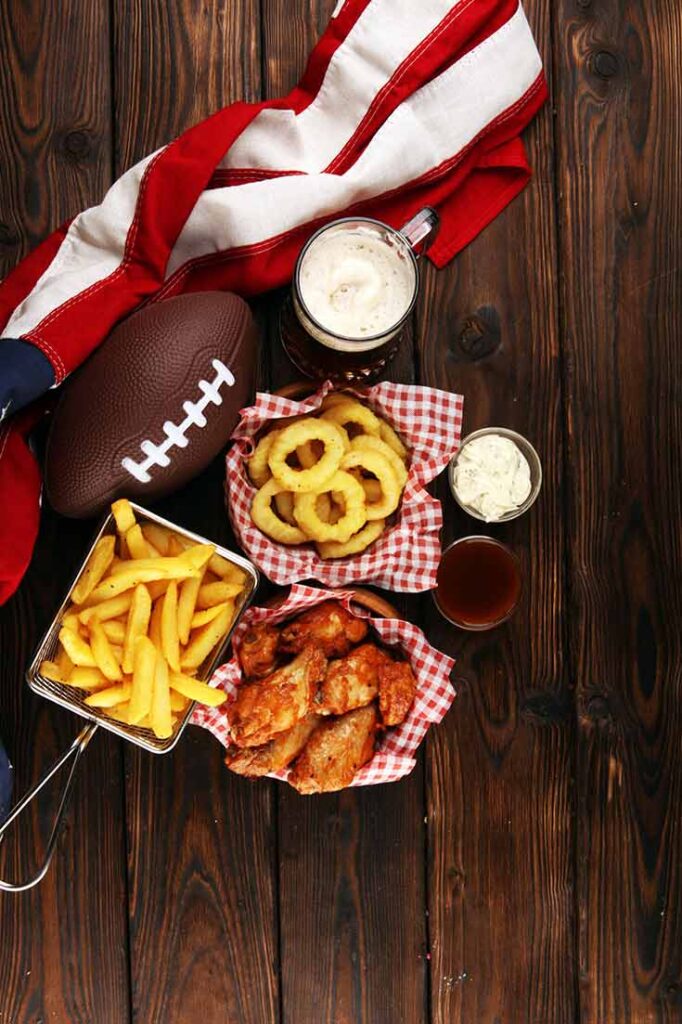 Super Bowl Dips
Best Healthy Dippers
Raw veggies are a fantastic way to go. Here are some suggestions:
Chopped cauliflower
Long strips of red peppers (or any variety or color of bell peppers)
Carrot sticks
Celery sticks
Chopped broccoli
Organic corn chips
Whole grain crackers
Whole grain tortilla chips
Super Bowl Finger Food
Super Bowl Meals
Super Bowl Grilling Recipes
If you'll be grilling for game day, here are some healthy recipes the whole team will love!
Breads
Seasoning Blends
Super Bowl Desserts
Post from the Gracious Pantry® archives, originally posted 1/28/17.