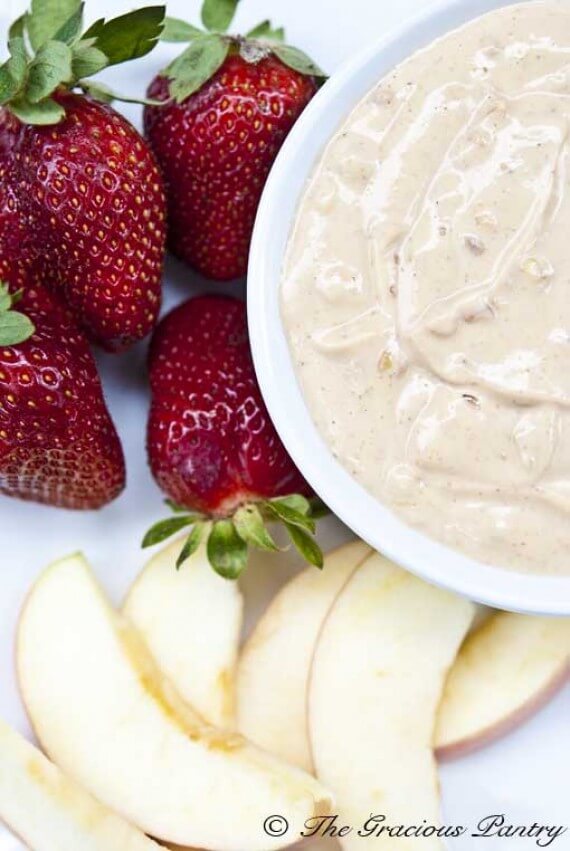 I'm getting more and more ideas for recipes these days from Pinterest.com. It's amazing what you can find on that web site. I would almost equate it with Google, only far more addictive!
Anyhoo, I found a recipe on Pinterest for Peanut Butter Fruit Dip. There was almost nothing clean about it, but the concept certainly sparked my interest. So I gave it a shot.
I think this may quite possibly be Mini Chef's favorite recipe so far of all the recipes I've made for him. He absolutely adores it and it's such a great way to get some healthy nutrition into that growing body of his. And yes, I thought it was pretty tasty myself. In fact, it's just as addictive as the web site I found the idea on!
It's a wonderful dip to pack for lunch with some fruit or crackers or it can be used for dessert!
Note, I've got a chocolate version coming up in a few days that makes for a pretty convincing clean version of cake frosting! Delish!
YOU MIGHT ALSO ENJOY:

Clean Eating Peanut Butter Fruit Dip
(Makes approximately 1 1/2 cups)
Ingredients:
1/2 cup peanut butter (creamy or chunky depending on your preference)
1/2 cup whole milk Greek yogurt
2 tablespoons honey
1/4 cup milk
2 tablespoons flax or chia seeds (I used flax)
Directions:
Whisk everything together until you have a smooth, creamy dip. Serve with fruit such as apples or strawberries.
NOTE: if your peanut butter is runny, cut back on the milk. You want this to be dip, not peanut butter milk.