This Nutella recipe is homemade, and so much richer and healthier than the store-bought stuff!
So ya, I think I'm about to make a lot of new best friends with this recipe.
It's been so long since I've had real Nutella that I completely forgot just how good it is. That is, until I made my own. I mentioned it just once on Facebook and the response was overwhelming. So I think after today, I'll be just a tad bit more popular with the healthy recipe crowd.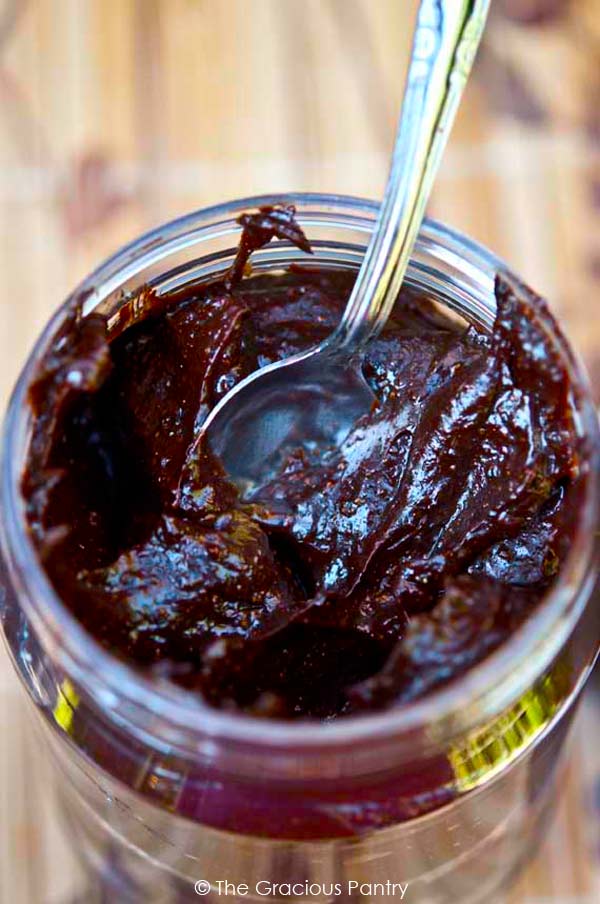 It's funny, I was so sure that Mini Chef would go crazy for this stuff. Not so!! He won't touch it! But that's okay, that just means there's more for the grownups around here. Although technically, I'm not sure that's a good thing. This is definitely a once in a while treat. Not something you can eat every day, particularly if you are trying to lose any weight. But once in a while, this stuff is incredible!
My theory is that if we can sometimes enjoy the things we love and still have them be clean eating, healthy foods, not only will we benefit health-wise, but also emotionally. Because let's face it. Losing weight or working on general health is all one big mental head game.
P.S. – This would make a really yummy cake frosting!
WHAT IS NUTELLA?
Nutella is actually an Italian brand name product sold in stores world-wide. It's a hazelnut-chocolate spread typically used for spreading over toast, though it can be used in many different types of recipes. Particularly, dessert recipes.
WHAT IS NUTELLA MADE OF?
Their ingredient list states: Sugar, vegetable oil, hazelnuts, skim milk powder, fat-reduced cocoa powder, soy lecithin, flavouring (vanillin
The sugar is highly processed as is the vegetable oil. The skim milk powder and reduced fat cocoa powder are incredibly processed as well which means they do not resemble anything close to their original states. Soy lecithin is most likely a processed GMO and the vanillin is a component of the vanilla bean which is typically made and used as a synthetic. So as you can probably guess, this stuff is nowhere near a truly natural hazelnut spread.
The recipe below uses real-food ingredients. Actual chocolate, honey, real vanilla extract, ingredients you'll recognize as actual food. And that's what gets us back to good health. Choosing the right ingredients.
IS NUTELLA GOOD OR BAD FOR YOU?
Let's face it. Most processed, sugary treats are never good for you. Sugar in general is never actually good for you. That's reality. But the occasional treat is nothing to be ashamed of, providing it's actually, occasional. I'm not a fan of labeling anything made with whole-food ingredients as bad. But you also have to use good, common sense here. While this recipe is certainly better health-wise than the store bought stuff, it still has sugar in it, which should always be enjoyed in moderation.
WAYS TO USE HAZELNUT SPREAD:
Spread on toast.
Use as frosting for cake.
Put a spoonful in your morning coffee.
Use as an ice cream topper.
Use it to flavor baked goods.

CLEAN EATING NUTELLA RECIPE: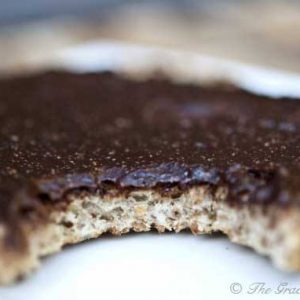 Clean Eating Nutella
You don't have to give up your Nutella addiction to stick to your eating plan. Make your own!
Print
Pin
Rate
Ingredients
1 1/2

cups

hazelnuts

6

oz.

unsweetened chocolate

3/4

cup

honey

1/4

cup

oil

(I used safflower)

1/2

cup

almond milk

(unsweetened - or regular milk works too)

1

tsp.

pure vanilla extract

(I used Bourbon Vanilla from Trader Joe's)
Instructions
Place the hazelnuts on an ungreased cookie sheet and bake at 350 F. for about 15 minutes. The flesh should be a nice golden brown and the skins should be closer to black in color.

Remove from oven and allow to cool completely.

Put the hazelnuts on a dish towel and rub until the skins come off. You may need to help some of them along with your hands, but most of the skins should come off with the towel.

Put the hazelnuts in a food processor and blend until you have a nut butter consistency. It may not be perfectly smooth, but you'll know it when you see it. It takes a few minutes in the processor, so just keep blending.

While the hazelnuts are in the processor, put the chocolate squares in a bowl and microwave for about 3 minutes. Stir, and then continue to microwave in 30 second intervals, stirring after each one, until the chocolate is melted.

Stop the processor and add the chocolate, then the honey and oil. Mix as much as you can. The mixture will be very thick, so it may put a little bit of strain on your mixer. At that point, start adding your milk slowly, a little at a time.

Lastly, add the vanilla extract and blend for a few moments more just to combine everything really well.

Transfer the nutella to a jar and store in the fridge. It will get thick like peanut butter does when it's cold.

NOTE: After having this for a few days, I can give a little feedback on how it keeps. Once it's been in the fridge, it gets pretty thick. Kind of like peanut butter that has had the oil poured off. But it still spreads pretty well.

Also, once it's been in the fridge, be sure you keep it there. Don't leave it out again for a while before putting it back in the fridge. It gets a bit "grainy".

Notes
Please note that the nutrition data is a ballpark figure. Exact data is not possible.
Nutrition
Serving:
1
oz.
|
Calories:
117
kcal
|
Carbohydrates:
10
g
|
Protein:
1
g
|
Fat:
9
g
|
Saturated Fat:
2
g
|
Sodium:
7
mg
|
Potassium:
98
mg
|
Fiber:
1
g
|
Sugar:
7
g
|
Vitamin C:
0.4
mg
|
Calcium:
19
mg
|
Iron:
1.4
mg