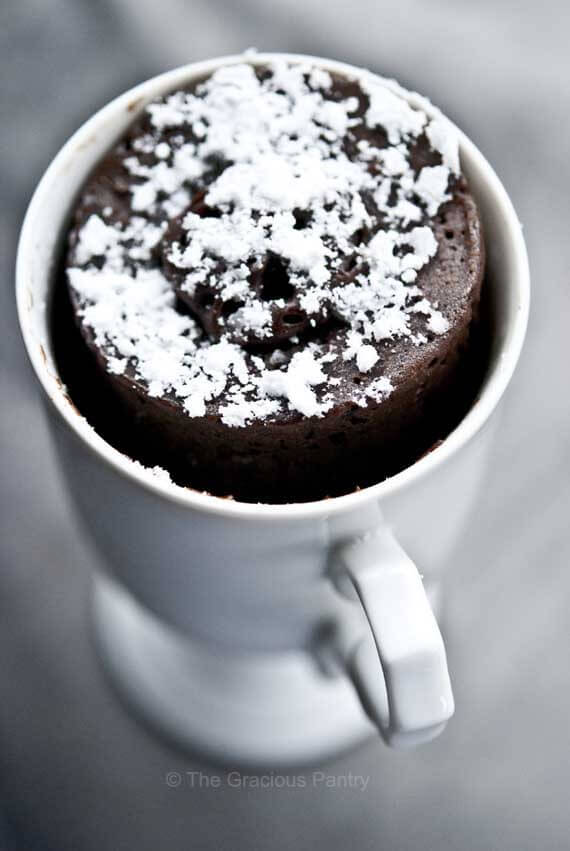 If I had a penny for every request I've received for cleaning up mug cake recipes, well… let's just say I'd be living in my dream house right now.
In fact, I would go so far as to say that this recipe has been the number 1 request in the 3 years that I have been blogging. It's also been the toughest recipe to clean up. Something about the microwave changes the way the ingredients come together, and I just have not been able to master this recipe. Until now….
A fan on Facebook sent me a recipe and asked me if I could help her clean it up.
Thinking that this would be yet another mug cake failure, I was not overly enthusiastic about trying it, but figured it was still worth another shot since they come together so quickly.
I've also been looking for a recipe to try out using coconut sugar. I heard on the Dr. Oz show that this particular sugar is low on the glycemic index and that the sugar itself is pretty healthy. I just needed a good excuse to try it, and I definitely found one. If you can't find coconut sugar in your area, you can order it on Amazon.com here
. You can also use date sugar or Sucanat.
While this is obviously a once-in-a-while recipe, it's positively sinful!!
YOU MIGHT ALSO ENJOY:

Clean Eating Chocolate Mug Cake
(Makes 2 servings)
NOTE: You'll need a large mug (a small or regular sized mug won't cut it)
Ingredients:
4 tablespoons white whole wheat flour
6 tablespoons coconut sugar
2 tablespoons unsweetened cocoa powder
2 egg whites
3 tablespoons non-fat milk
1 tablespoon safflower or coconut oil
Directions:
Whisk together the dry ingredients in your mug. Be sure they are well combined.
Add the wet ingredients and mix well again.
Microwave for up to 5 minutes on high. My microwave is older so if you have a newer one, you may only need 3-4 minutes.
Note: The cake will rise up over the mug during cooking. Don't panic. It sinks back down again. Promise!