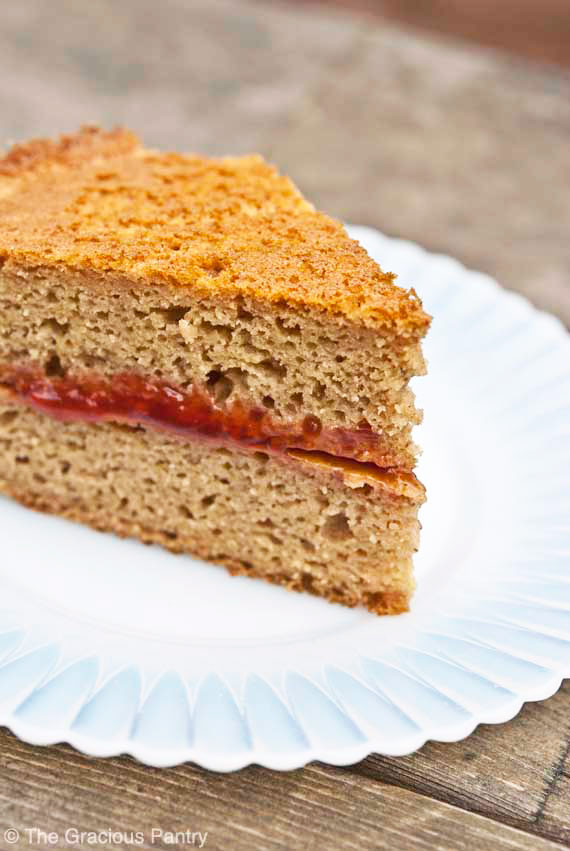 I've been trying to find a way to make a good birthday cake for a long time. I've tried many recipes and I've had to throw several of them right into the trash.
But I finally did it!
I should warn you, this cake is addictive. But if it's your birthday, at least eating a lot of cake won't be so bad if the cake you're eating is clean!
I'm still trying to develop a good frosting recipe. That white frosting that makes any cake look like a birthday celebration. You know what I'm talking about… that stuff you can't help but dip your finger into a few times while decorating the cake. Ya, that one. I need a clean version of that. And I'll get it! Yes I will!
But in the mean time, I don't want to leave you high and dry either. So if you don't mind putting some chocolate pumpkin frosting on your cake, you can try the frosting I did for my Halloween cupcakes. It's yummy stuff! A second option would be to try my Clean Eating Nutella, and lastly, here is a Clean Eating Nut Butter Frosting.

Clean Eating Birthday Cake
(Makes 8 servings)
NOTE: This recipe makes 1 layer. Double it (using 2 cake pans) if you want a layered cake with filling in the middle.
Ingredients:
1 cup whole wheat pastry flour
2 teaspoons baking powder
2 egg whites
1 tablespoons safflower oil (or any light flavored, healthy oil)
3/4 cup unsweetened apple sauce
1/3 cup honey
1 tablespoons vanilla extract
Directions:
Preheat oven to 350 degrees F.
Line a 9 inch cake pan with parchment paper. Then spray the inside of the pan, including the parchment with a light coat of oil from an oil sprayer.
In a large mixing bowl, whisk together the flour and baking powder until well combined.
Whisk in all other ingredients.
Pour batter in to cake pan and bake for 26-30 minutes. A knife or cake tester should pull our clean.
Allow to cool. Run a plastic knife around the edge to separate cake from pan and then remove.
If you made a second layer, cover one cake with filling or frosting and place the second cake on top.