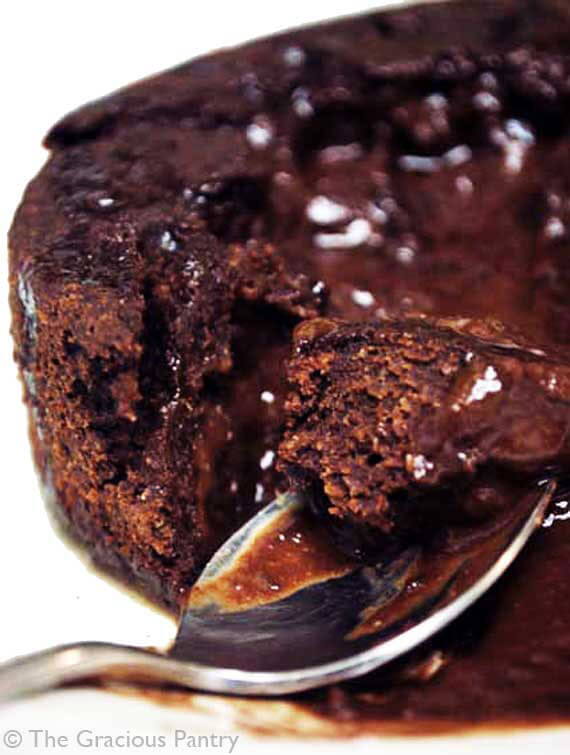 Oh goodness me. If you had told me when I first started eating clean, that I would be able to occasionally enjoy a chocolate molten cake, I would have looked at you with my eyes crossed. I just won't have believed it. But here it is! In living color. And I can sum it up on one word…. A.M.A.Z.I.N.G.!!!
I found the recipe a clean eating web site that has since closed down. However, with a little research, I found that it's also possible that this recipe originally came from Clean Eating Magazine. So I'm not sure who to give the credit to.
I did make a few minor changes though (don't I always?). So here's my version. I cut down on the fat and calories, and added some extra vanilla for flavor. I also substituted honey for the sugar.
YOU MIGHT ALSO ENJOY:
Clean Eating Chocolate Molten Cake
(Makes 4 servings)
Ingredients:
Olive oil in an oil sprayer
1/4 cup unsweetened cocoa powder
1/3 cup honey
3 tablespoons unsweetened applesauce
2 tablespoons olive oil
2 egg whites
1/2 cup white whole wheat pastry flour
2 teaspoons vanilla extract
Directions:
Preheat oven to 400 degrees F.
Spray 4 (4 ounce) ramekins with a very light coat of olive oil.
In a large mixing bowl, mix together all of your wet ingredients (honey, applesauce, olive oil, egg whites, and vanilla).
Whisk in your cocoa, and finally your flour. Blend well. You don't want lumps (or at least, very few of them).
Pour your cake mix into your ramekin(s), and place on a cookie sheet. Slide into the oven and bake for about 15 minutes.
Note: The nice thing about this cake, is that once the sided have baked, you can turn the ramekin over onto a plate (yes, even just out of the oven), and check to see if you have too much liquid in the middle or if it's baked enough. If you still have too much liquid, simply put the cake back into the ramekin, and bake longer, in 2 minute increments, until you get it just right. The original recipe said to bake it for 9 minutes, but I found that to be far to short in the larger ramekin. The cake was almost raw after just 9 minutes. A lot depends on your oven too, so be willing to keep an eye on this one.
Nutritional Content:
(Data is for 1/4 recipe, baked)
Calories: 193
Total Fat: 10 gm
Saturated Fats: 3 gm
Trans Fats: 0 gm
Cholesterol: 0 gm
Sodium: 33 mg
Carbohydrates: 29 gm
Dietary fiber: 9 gm
Sugars: 6 gm
Protein: 8 gm
Estimated Glycemic Load: 9
Please Note: Nutritional Information estimated at Nutritiondata.com. Data may not be accurate and is subject to the availability of specific foods in their database. Where one ingredient is not listed, substitutions must be used. Therefore, you should not refer to this data as being exact. It's more of a ballpark figure. The Gracious Pantry does not take responsibility for the inadequacies of the nutrition calculator used. This data is provided as a courtesy and general reference only. It is not exact.