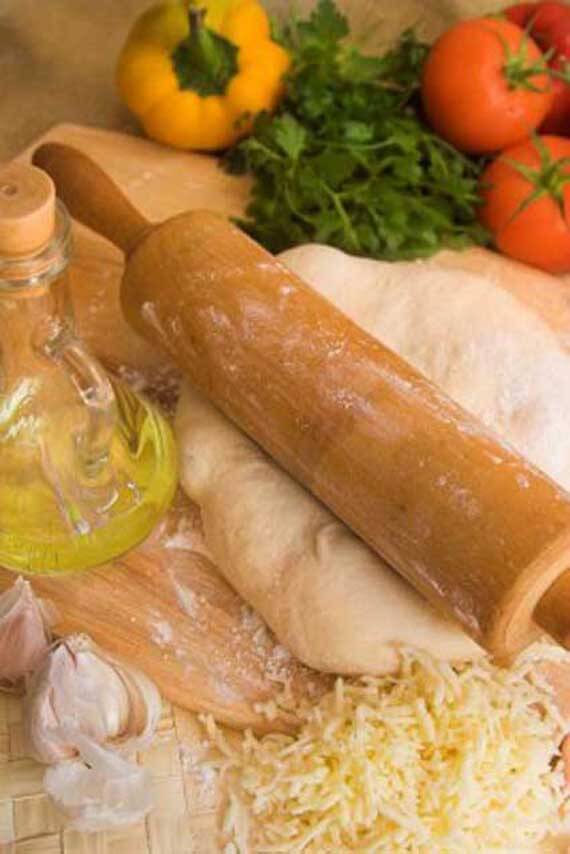 I love it when a great recipe happens on accident.
The truth is, I was trying to make the pizza dough recipe out of the Clean Eating Magazine I just bought, but I didn't have enough of some ingredients, or any of the others. So I improvised.
I also cut down on the salt by half, and the oil by a third.
What I got, it probably the best pizza dough I've ever had. Soft, chewy and full of fabulous flavor.
How I love pizza! I firmly believe it should be its own food group on the food group pyramid. But maybe that's just me.
Oh I'm sorry, did you want the recipe? Silly me. Here ya go!
YOU MAY ALSO ENJOY:

Clean Eating Pizza Dough
(Makes enough for 1 large pizza)
Ingredients:
1 tablespoon honey
1 cup warm water
1 package active dry yeast
1 cup whole wheat pastry flour
2 cups oat flour
4 teaspoon vital wheat gluten
1/2 teaspoon salt
2 tablespoon olive oil
Directions:
Mix your honey and warm water together. dissolve the honey completely. Then add the yeast and let it sit (do not move the bowl or stir). It should foam.
While all this is taking place, mix all your dry ingredients in a bowl.
Once you have a nice bowl of foam, pour it into the flour mixture and stir until just blended. Add 1 tbsp. olive oil and blend again. I had to knead a little with my hands to get everything blended.
Coat the base of a bowl with 1 tablespoon olive oil. Then, roll your ball of dough around in it to coat the surface. Cover the bowl securely with plastic wrap and let the dough rise for 1 hour.
If your dough is very wet, add 1/4 cup extra oat flour while you knead a second time. Mold the dough into a ball once more and let it rise for another half hour.
Roll the dough with a rolling-pin to about 1/4 inch thickness. Form to your pizza pan or a cookie sheet, and let rise for another 20-30 minutes (covered with plastic wrap) while you prepare your pizza toppings.
Top your pizza, bake and get ready to enjoy one yummy pizza!