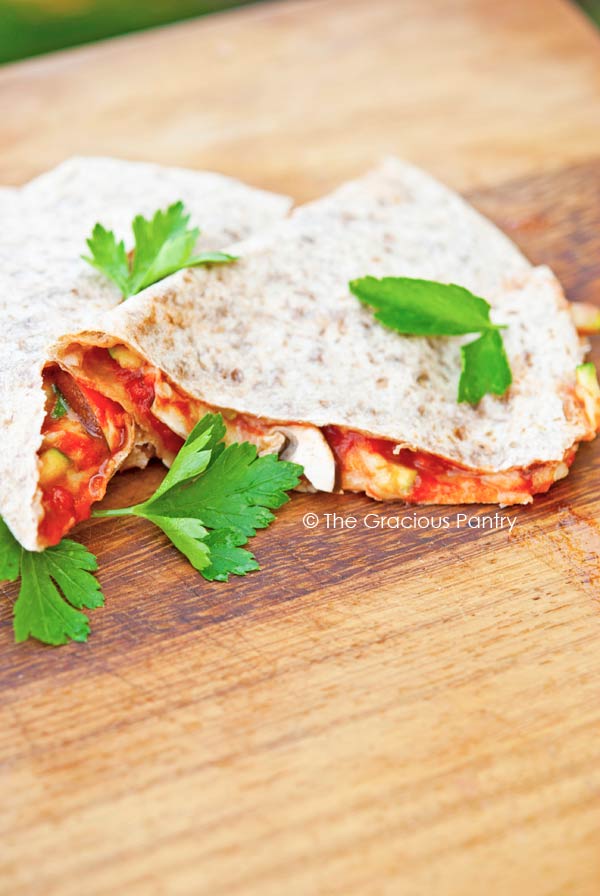 I firmly believe that every Mom (or Dad) needs to have at least one meal in her cooking arsenal that is not only fast to make for those busy week nights, but is also healthy. And, oh ya… the kids have to LOVE it.
You know what I'm talking about. That one meal that you KNOW your kids will eat no matter what, and you don't feel guilty giving it to them. Even if you give it to them a few nights a week. That one meal that is so easy to put together, that you could practically do it in your sleep.
This is my "go-to" secret weapon when dinner has to be done in 15 minutes including prep time, and I want my son to get his veggies for the night. He gobbles it down in no time, and I can whisk him off to bed. Then I can settle in for an evening of my own dinner and whatever show I can catch on TV before I pass out from sheer exhaustion.
YOU MIGHT ALSO ENJOY:

Clean Eating Pizzadillas Recipe
Author:
Recipe Tip: Especially for younger kids, keep the layers thin. Not only will it be easier for their little fingers to manage, but it will also cool down faster which is great, because young, hungry kids are never patient.
Ingredients
1 whole wheat tortilla
1/4 cup plain tomato sauce or your child's favorite spaghetti sauce
1/4 cup of 2 or 3 different veggies, cut small or shredded.
1/4 cup hand-grated cheese
Instructions
Preheat oven to 350 degrees F.
Place your tortilla on a parchment lined cookie sheet.
Layer ingredients in order listed.
Place in oven for 10 minutes
Fold in half, cut, cool and serve.