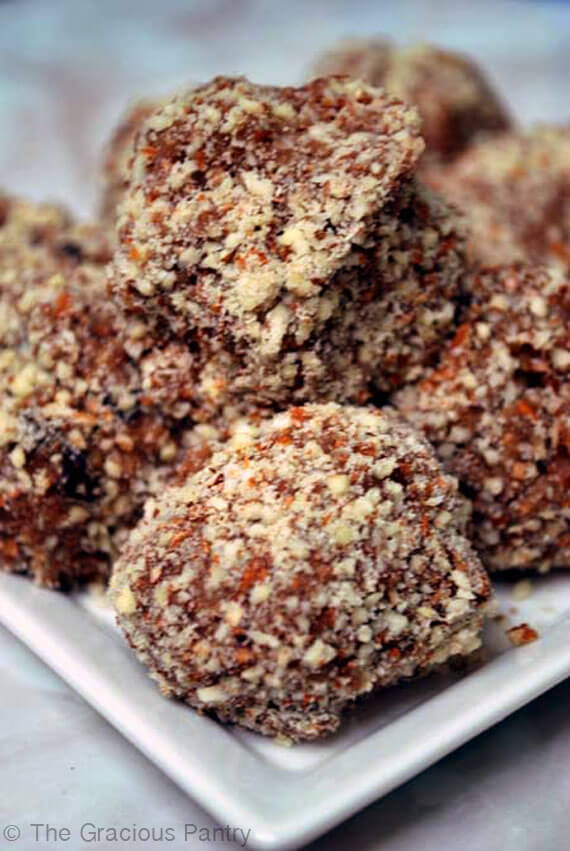 Ya, you read that right. Clean eating and "cookie dough" in the same sentence.
And yes, you WILL eat the whole batch. I admit it. I caved. I mean, you can't call these things "clean", and then eat just one. It's not gonna happen.
Actually, I take that back. I DID eat only one. Then I stuck the entire batch in the freezer. After a few hours, I tried another one, and another, and well… you get the idea. I'm embarrassed to say I did NOT want to share these with my son. But in my defense… I did. And he loved them. So this is a good one for the kids too! Hmm… should this be in my Clean Eating Kids section? Naaahhh! I think most clean eating adults will want these all to themselves like I did.
Just look at this face?
Oh boy. I have a problem. I really did have a hard time giving these up. But the good news is, I can always make another batch. And so can you.
Recipe adapted from the Love Veggies and Yoga blog.
Clean Eating Cookie Dough
(Makes 12 dough balls)
Ingredients:
2/3 cup raw cashews
1/3 cup cooked oatmeal
3 tablespoon honey
1 teaspoon ground cinnamon
1 teaspoon vanilla extract
1/4 cup chopped prunes (no sugar added)
1/2 cup almonds, ground to a consistency you like.
Directions:
Grind your almonds in a food processor. Set aside in a separate bowl.
In your food processor, blend together your cashews, oatmeal, honey and vanilla.
When you have nice lumpy dough, fold in your prunes.
I should warn you that this is a very sticky dough. Try chilling it in the fridge or even the freezer for a couple hours to help make it more manageable.
Roll the dough into 12 equal sized balls and roll in the ground almonds.
You can eat these as is, or you can freeze for several more hours. I highly recommend the freezing. Something about freezing it makes it taste so delish and so much like actual cookie dough! Don't worry, you won't break a tooth. It doesn't actually freeze to a hard ball. You can still bite into it even when it's frozen.
Nutritional Content:
(Data is for 1 dough ball)
Calories: 73
Total Fat: 4 gm
Saturated Fats: 1 gm
Trans Fats: 0 gm
Cholesterol: 0 gm
Sodium: 3 mg
Carbohydrates: 8 gm
Dietary fiber: 1 gm
Sugars: 5 gm
Protein: 2 gm
Estimated Glycemic Load: 4
Please Note: Nutritional Information estimated at Nutritiondata.com. Data may not be accurate and is subject to the availability of specific foods in their database. Where one ingredient is not listed, substitutions must be used. Therefore, you should not refer to this data as being exact. It's more of a ballpark figure. The Gracious Pantry does not take responsibility for the inadequacies of the nutrition calculator used. This data is provided as a courtesy and general reference only. It is not exact.