These are such a fun and healthy holiday snack! Barring any allergies, these are a great snack for kids of all ages. They'll keep you full and give you a little kick of energy mid-day when you need it most!
This post created and shared in collaboration with eBay.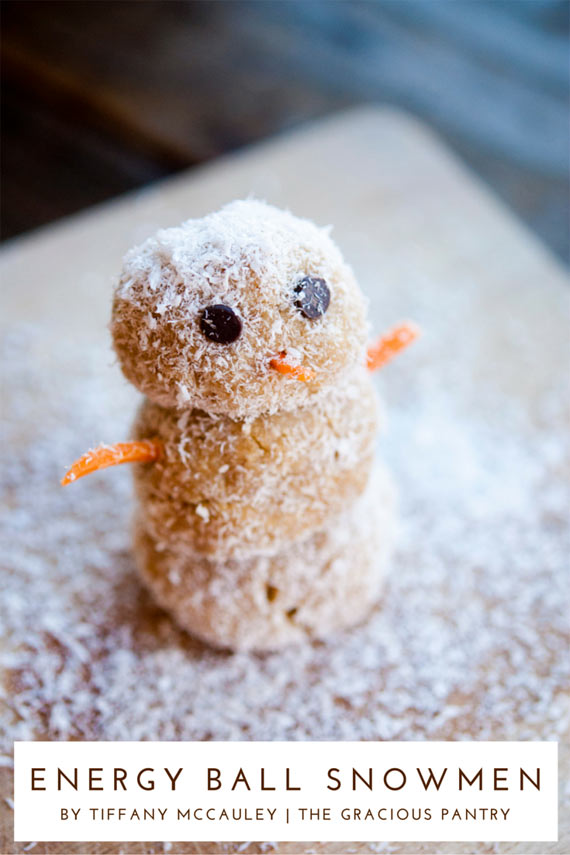 They are simple to make too. Just a quick blend in a food processor and a roll in some coconut flakes, and you've got yourself some adorable little snowmen! These would be a fun holiday snack to take to the office as well!
As many of you know, I'm working with eBay to develop 15 holiday recipes, and this is number 13! So I hope you'll click just one more time to get the recipe. I promise, it's worth it!
Clean Eating Energy Ball Snowmen
Author:
(see process photos below)
Ingredients
ENERGY BALL INGREDIENTS:
2 cups raw cashews
1 cup madjool dates, pitted and packed tight
1/2 tsp. pure vanilla extract
DECORATION INGREDIENTS:
1 cup unsweetened coconut flakes
1/4 cups mini chocolate chips (for eyes)
2 baby carrots (for nose)
Instructions
Blend together the nuts, dates and vanilla in a food processor until well combined (about 3-5 minutes).
Transfer dough to a medium mixing bowl.
Form walnut-sized balls from the dough, kneading a little to make the dough stick together, otherwise it will crumble in your hands.
Roll each ball in the coconut flakes with gentle pressure.
Add the chocolate chips for eyes and carrots for arms and nose.
This recipe was a sponsored post for eBay. You can SEE THE ORIGINAL RECIPE HERE.