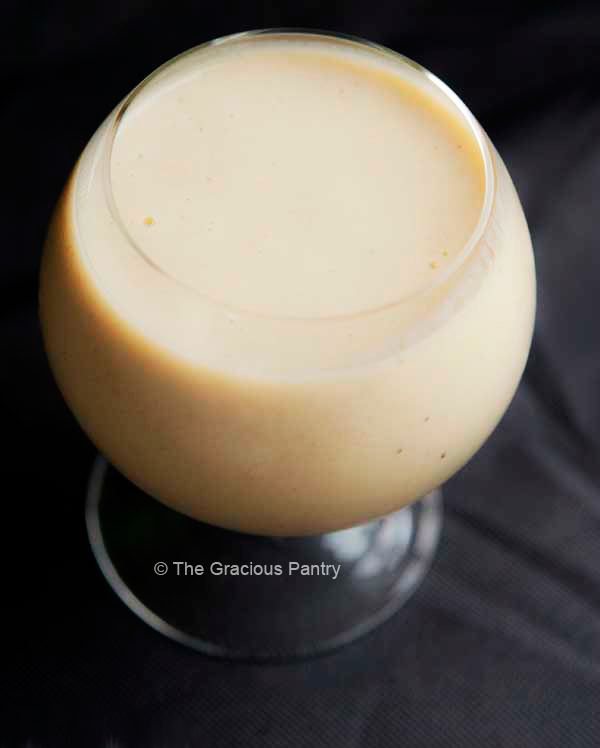 Eggnog is an American drink. But it's roots lay in English tradition.
Nog is a shortened version of the word noggin, a small drinking vessel with an upright handle.
-Woman's Day Encyclopedia of Cookery, Vol. 4-
Many people the world over just wouldn't consider it a proper holiday season if they didn't have some eggnog to enjoy it with. But these days, the eggnog you buy in the stores is so full of processed sugar and chemicals, that it's getting harder and harder to justify buying it, even as a cheat on a clean eating diet.
But I'm here to tell you that all is not lost. This recipe is not only clean, it's low in fat. And of course, this frees you up to switch your "cheat" from the eggnog to the brandy you might want to add. Ya, even I'm guilty of that one!
The great thing about this recipe is that it's really versatile. There are lots of different options with this and I'll share them with you throughout the recipe. So let's get started, shall we?
YOU MIGHT ALSO ENJOY:

Clean Eating Eggnog
Ingredients:
2 cups soy milk (options: milk, unsweetened rice milk, almond or hazelnut milk)
3 egg whites
1/3 cup honey
1 teaspoon vanilla
1/2 teaspoon nutmeg
1/2 teaspoon cinnamon + extra to sprinkle on top
Directions:
Let's take a moment to talk about your options here first. If you don't want the eggs in your eggnog, simply omit them. But you will have to reduce the milk by about half to get it to thicken properly.
Place all ingredients in a blender and blend for about 2-3 minutes ( I used the pot I was going to cook it in and my hand blender).
Pour the eggnog into a pot and warm over medium-low heat for 15 minutes to cook the egg. You want this to get hot, but you do NOT want to boil it. Towards the end, it will want to simmer. Whisk constantly to avoid it.
Remove from heat and set the pot in the fridge when it's cooled enough to do so. Chill overnight.
If you made this with the exact listed ingredients (no substitutions), you will see that when it's cold, it becomes very thick. Blend with a whisk.
If you find that it's far too thick, simply add a bit more milk until you reach the consistency you enjoy.
Pour into cups and sprinkle with cinnamon.