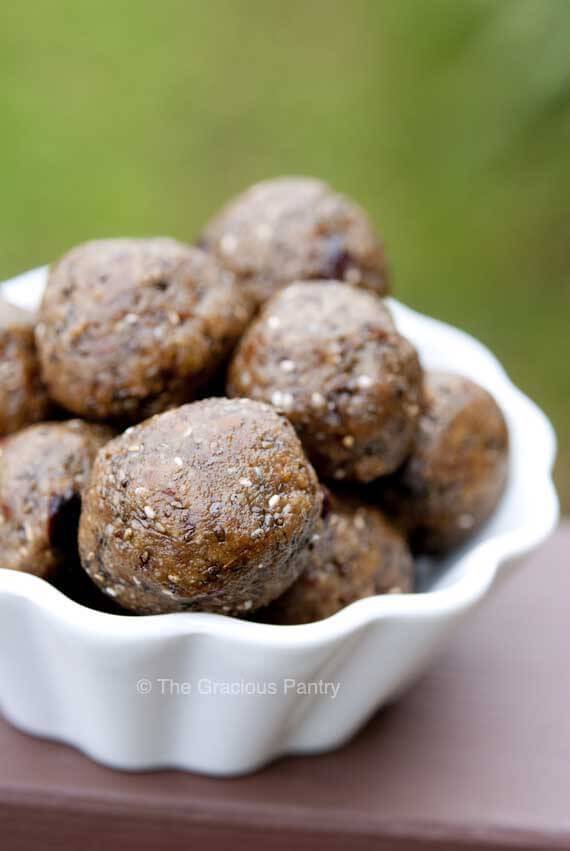 Nut butter balls are a favorite snack around here. These in particular I would compare to eating cookie dough, but with a gingerbread flavor. Yum!
Mini Chef's class will often make their own peanut butter balls in the class room to share for snack time. All the kids get involved, and he thoroughly enjoys the process as well as the resulting goodies. He talks about them often, so I thought I'd make something similar but with my own twist for him to enjoy at home. But now I think I've created a monster. It's all he wants to eat. I guess I shouldn't complain. He's not exactly begging for a Happy Meal. I can actually feel pretty good about him eating these.
And as for me…I need to be sure there are actually some left for him to snack on!
YOU MIGHT ALSO ENJOY:

Clean Eating Spiced Almond Butter Balls
(Makes 76 balls)
Ingredients:
2 1/2 cups almond meal
1 1/2 cups unsweetened almond butter
1/2 cup chia seeds
3/4 cup maple syrup
1 teaspoon vanilla
Zest of 1 large orange
1 cup dried cranberries, sweetened with fruit juice
2 teaspoon cinnamon
1/2 teaspoon ground cloves
1/2 teaspoon allspice
Directions:
Combine all ingredients together in a large mixing bowl (If you need more almond meal to "firm up" the dough, use it as needed).
Form into balls about the size of half a walnut (maybe slightly bigger).
Place balls on a parchment lined cookie sheet and place in the freezer for at least 2 hours.
Store in freezer in a freezer bag or container.