Make no mistake, whether you just eat clean or clean and low carb, this is a treat. Not a regular part of your eating plan. But the truth is, sometimes you need a treat. A delicious treat. And this Clean Eating Blueberry Lemon Mug Cake is just the thing to soothe a raging sweet tooth.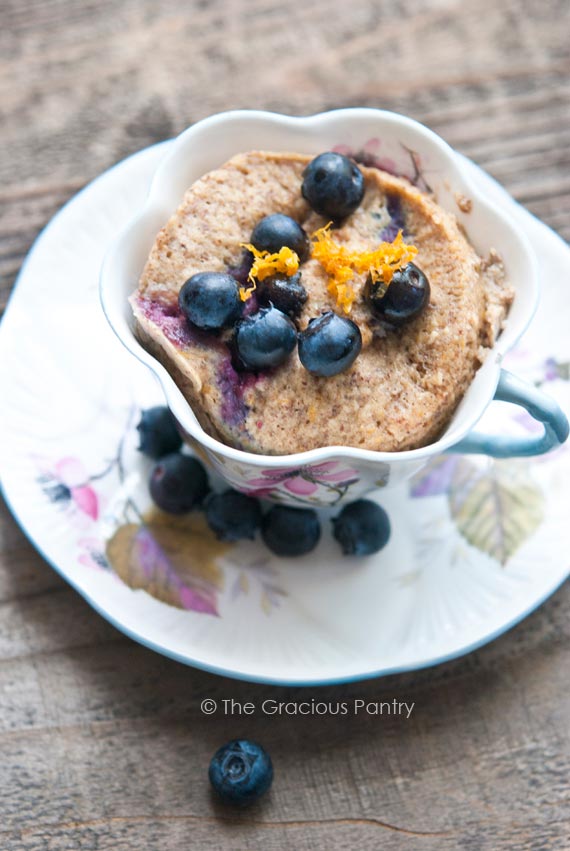 While some would consider this a bit high in carbs (it has approximately 12 carbs or 8 net carbs), I'm convinced that if I'm going to stick with this low carb lifestyle, I have to be able to enjoy myself from time to time.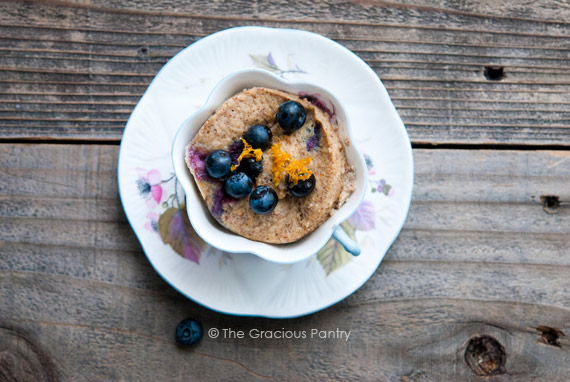 I love that I can make a single serving of cake and avoid having a dish of leftovers laying around. There is nothing worse than taking that last bite of cake and realizing you'd like to have a few more bites. Because when there are actually a lot of bites still in the kitchen, it's oh-so-easy to indulge, "one more bite" at a time.
So single servings are something I'll be doing more of in the future. Especially where desserts are concerned. I hope you enjoy this!
Recipe Note: If you'd rather use a sweetener other than stevia, try 1-2 tbsp. of sucanat or coconut sugar. Even honey should work in the same amount.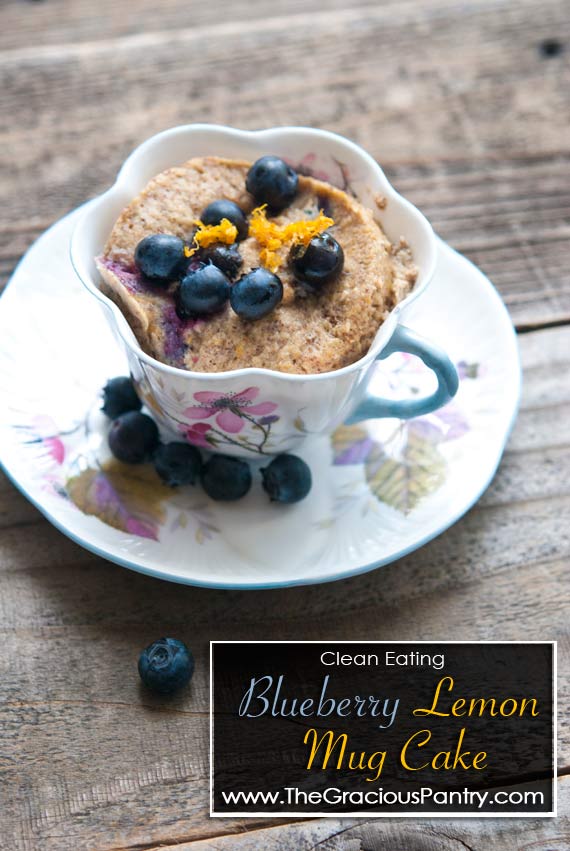 YOU MIGHT ALSO ENJOY:

Clean Eating Blueberry Lemon Mug Cake
Author:
Ingredients
1 large, raw egg
1 tbsp. light coconut milk
1 tbsp. coconut oil in liquid state
1 tsp. pure vanilla extract
1/2 tsp. pure liquid stevia
1/2 tsp. tightly packed lemon zest
4 tbsp. almond meal
1/4 tsp. baking powder
1/4 tsp. ground cinnamon
25 fresh blueberries
Instructions
In a medium to large mug, crack your egg and whisk with a fork.
Whisk in the coconut milk and oil. The oil should blend in smoothly.
Add the vanilla, lemon zest and stevia and whisk thoroughly.
Now add the almond meal, baking powder and cinnamon and once again, whisk thoroughly.
When the batter is nice a smooth, simply drop the blueberries onto the top of the batter. It will sink on it's own. Do not mix them in.
Microwave for 1 minute to 1 minute and 20 seconds. Start with one minute and if there is still uncooked batter at the bottom (push the cake to the side with a spoon to see the bottom), microwave for another 20 seconds.
Allow this to cool. The berries hang onto the heat for a long time, so don't burn yourself!
Enjoy!