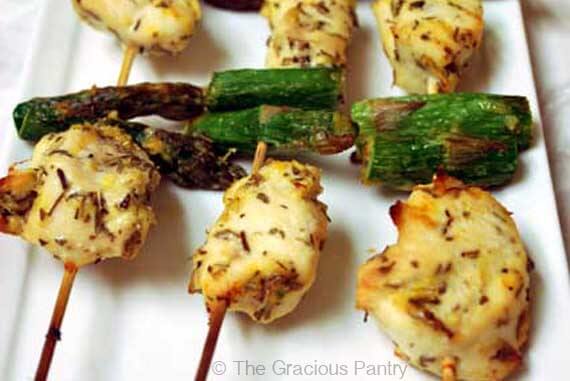 At the risk of sounding really arrogant, I've TOOOOOTALLY outdone myself with this one (Did you hear that California accent ….. dude?). I mean, these turned out REALLY good! I've been wanting to make these for a while and finally knuckled down and made them.
The only thing I would change next time, is I would use ground savory instead of the dried leaves. I think it would be a better texture.
And just a note: be sure to use metal kebob sticks. There's nothing worse than your sticks splintering into your meat as you push it onto the sticks. You want chicken for dinner, not wood and splinters. Learn from my mistakes.
YOU MIGHT ALSO ENJOY:

Clean Eating Chicken Kebobs
Ingredients:
4 large boneless, skinless chicken breasts (about 8 ounces each)
1/2 pound asparagus
2 teaspoons savory (trust me, you want the ground herb. Not the leaf)
1 teaspoon garlic Powder
1 teaspoon onion powder
1 tablespoon lemon zest
1 teaspoon lemon juice
2 teaspoons olive oil
Directions:
Preheat oven to 350 degrees F., and place your kebob sticks in a pan of water to soak (You do this so they won't catch fire in the oven if you are not using metal skewers).
Chop your asparagus into 1 or 1 -1/2 inch pieces.
Chop your chicken into bite sized pieces. (Approximately 1 or 1-1/2 inch square cubes)
Place all ingredients in a ziplock back, and moosh it around (yes,"moosh" is a very technical word. So moosh darn it… MOOSH!!! – Sorry, I can get a little bossy sometimes. Ignore me. But you still gotta moosh).
Don't skimp on the mooshing because there is not a lot of oil in this recipe. You really need to mix it up well to get even coverage of the oil and spices. So take your time. You'll have better tasting chicken if you do.
Alternate placing your asparagus and chicken on your kebob sticks. Don't ask me why, it just looks prettier I guess. And that's how everyone else does it… And yes, I would probably jump off a bridge if my friends were all doing it…. with a bungee attached, of course.)
Now this is the tricky part. So read carefully…
Put your Kebobs on a parchment lined cookie sheet and place in the oven.
Set your timer for 10 minutes.
When the 1o minutes is up, open your oven, flip your kebobs over (don't burn yourself, please), and close the oven door.
Flip the dial on your oven to "broil" instead of bake.
Broil for 10-15 minutes, or until you have a nice browned bit of chicken. A thermometer should read about 170 degrees F.