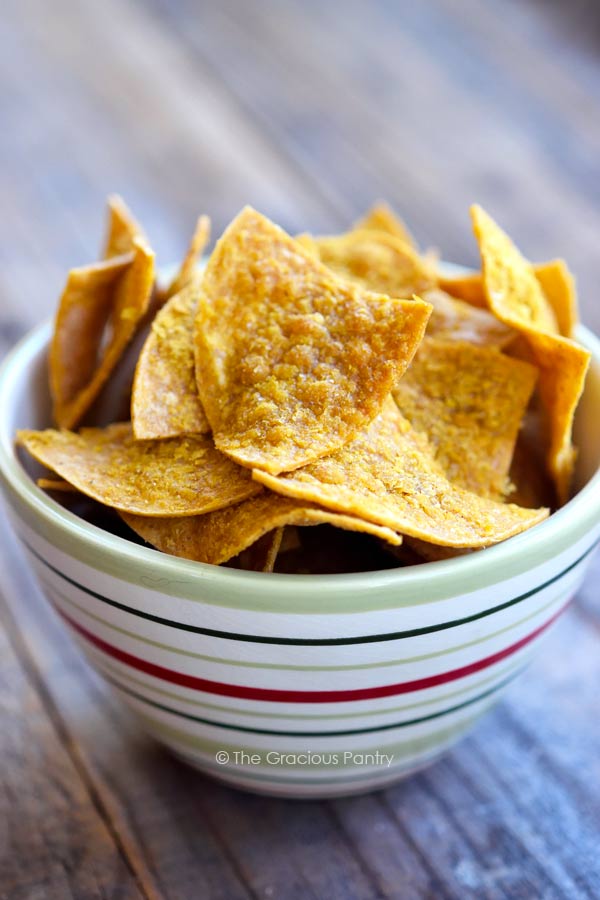 Before I started eating clean, Doritos were always my "guilty pleasure". I put that in quotes because I never really felt guilty for eating them, even though I knew they were terrible for my health. I had no problem downing an entire bag all to myself. In private, of course. Maybe there was some guilt there after all…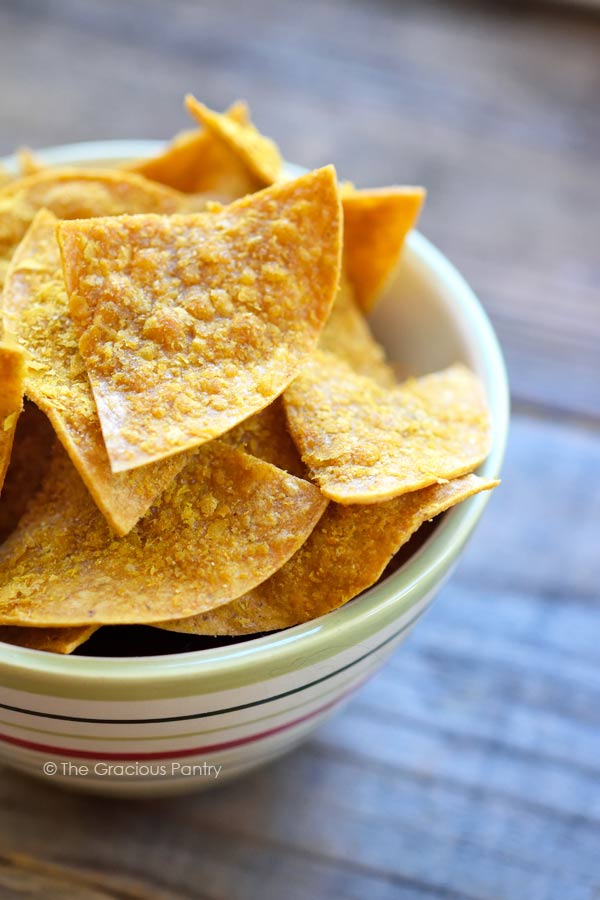 Mini Chef gets things like that when he is with his dad and I always like to show him that the junk he gets at his dad's tastes so much better when it's homemade with good-for-you ingredients. (Not that his dad only feeds him junk, he doesn't. But Mini Chef is far more likely to get that stuff from his dad than from me.)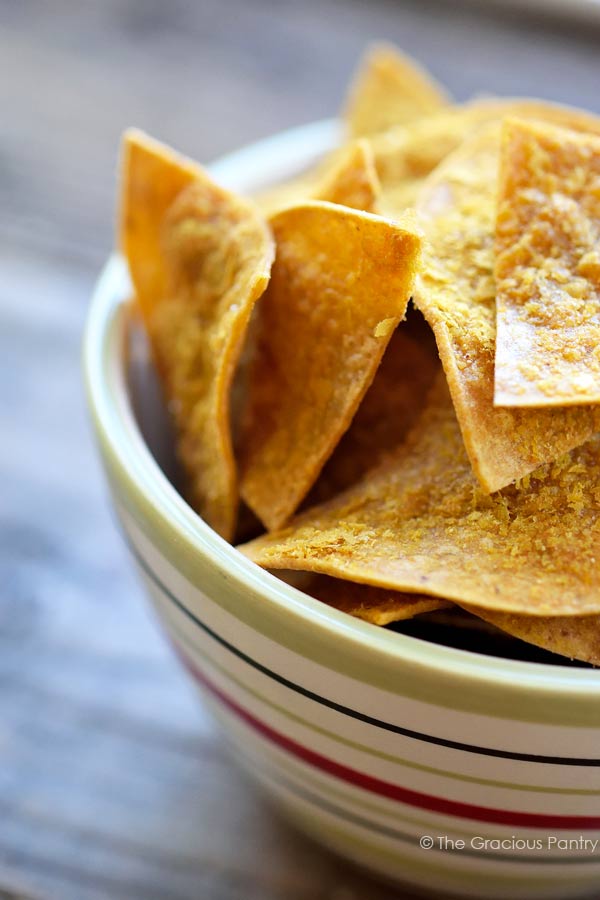 So I set out to try my hand at making homemade, clean eating doritos. I have to say, these turned out OMG DELICIOUS!!!
They aren't an exact replica of Doritos because I just don't have a lab handy where I can manufacture flavors and "mouthfeel". But they are close enough and frankly, just as addictive. Mini Chef should be very happy when he gets home from his dads this week!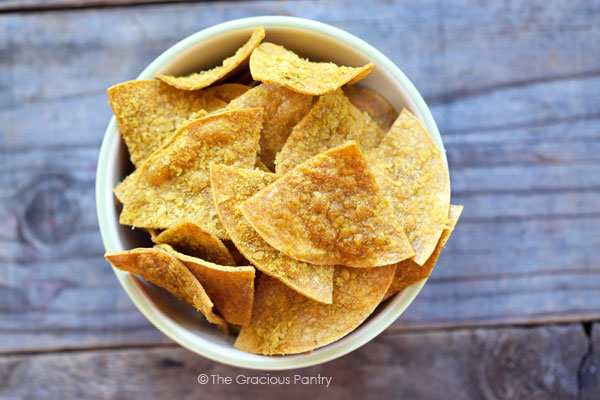 Recipe notes: I mention this in the directions, but it's worth restating here. Do not over-bake these. If you bake them until they are crunchy in the oven, you will end up with jaw-breaking, triangle bricks. These harden as they cool, so allow for that. It's admittedly a fine line to get them crispy without overdoing it, but honestly, it's so worth the effort! They are done in the oven when the chips feel dry, but have a tiny bit of give when you push on them (please don't burn yourself!). Every oven is different, so it may take you a couple tries to get the timing right. But I promise, it's worth it!
Also, You can view the steps for making these in the photos below the recipes.
Oh! And before I forget…
If you have any of the yeast mix left over, it's fantastic over popcorn!!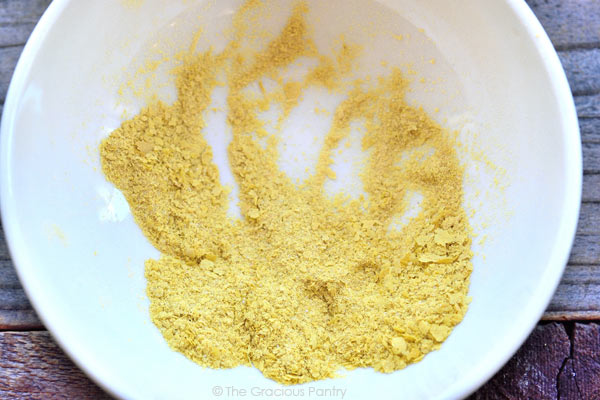 Now if you'll excuse me, I need to get these chips in ma belleh!!!

Clean Eating Doritos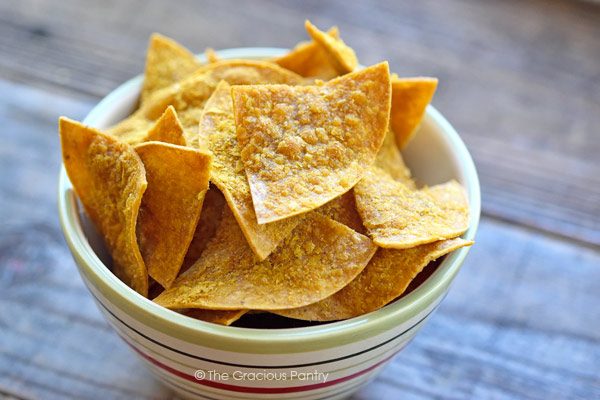 Author:
Tiffany McCauley | The Gracious Pantry.com
Yield:
Yield varies based on the size tortillas you use.
Ingredients
1 package clean, corn tortillas (I use organic to avoid GMO corn which isn't clean)
½ cup nutritional yeast
1 tbsp. garlic powder
1 tsp. onion powder
Instructions
Cut your tortillas into chips and spread them out on parchment-lined cookie sheets.
Spray with an oil sprayer, being sure to coat the tops of the chips as evenly as possible.
In a bowl, mix together the nutritional yeast, garlic powder and onion powder.
Sprinkle the yeast mixture over the chips.
Bake at 325 F. for 20-30 minutes. This time can vary by oven, so set your timer for 15 minutes and check them every 5 minutes after that. They go from done to burned pretty quickly. So watch them closely. Also, do not bake them until they are completely crispy. They will harden as they cool, and if you bake them until crispy, you will end up with something more like a jaw breaker after they have cooled down.
Remove from the oven and allow to cool completely.
These are the steps in pictures if you're interested: