I took a cooking class in July on making nut cheeses and milks and learned a lot that I hope to share with you here shortly.
The teacher in this class is apparently a prolific gardener, and had brought along huge zucchinis from her garden for us to take home. I grabbed one that was about the length of my forearm and happily went home with my mind buzzing over all the possibilities.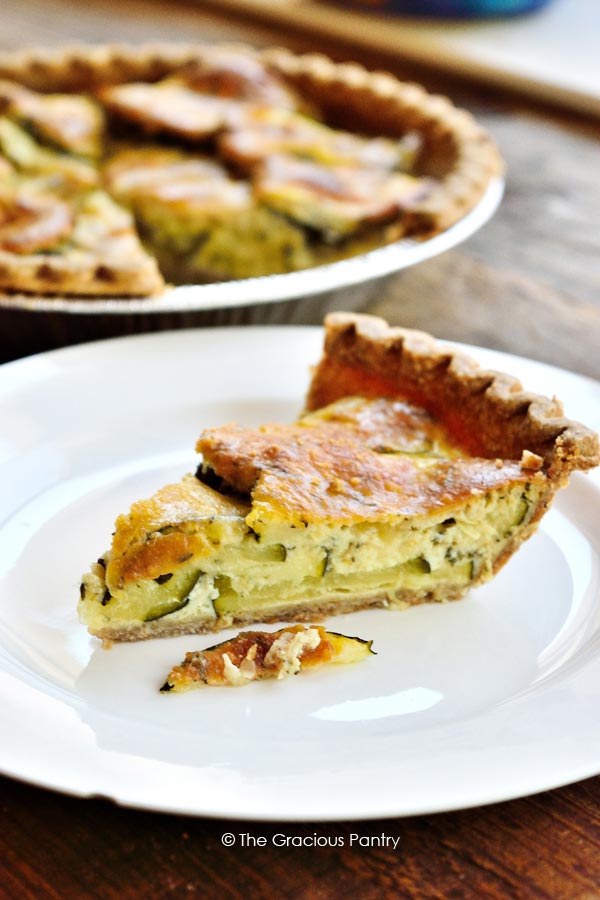 But then life got in the way as it tends to do. Mini Chef got sick and so of course, I got sick too, and that poor zucchini just sat in the fridge threatening to rot if I didn't act quickly. So I finally worked up the energy to make a simple dish that my mom could eat for a couple of days while I recuperated from my head cold.
Thankfully, it turned out great and she happily gobbled it up!
Ironic that a dairy-filled recipe would be born from a dairy-free cooking class, but there you have it. Deliciousness in a pie shell!
YOU MIGHT ALSO ENJOY:
RECIPES USED:

Clean Eating Zucchini Pie Recipe
Author:
Ingredients
1 extra large zucchini, sliced (enough to fill a standard pie shell)
1 pie crust (see link above)
1 cup graded parmesan cheese, plus a little extra for topping
2 large eggs
2 tbsp. milk
2 tsp. garlic powder
1 tsp. onion powder
1 tsp. dried thyme
Instructions
Arrange the sliced zucchini in the pie crust. I placed it in a spiral formation as it seemed to fit better.
Beat together the remaining ingredients in a small to medium mixing bowl and pour over the top of your zucchini.
Sprinkle with a little extra for topping.
Bake 350 F. for 1 hour.