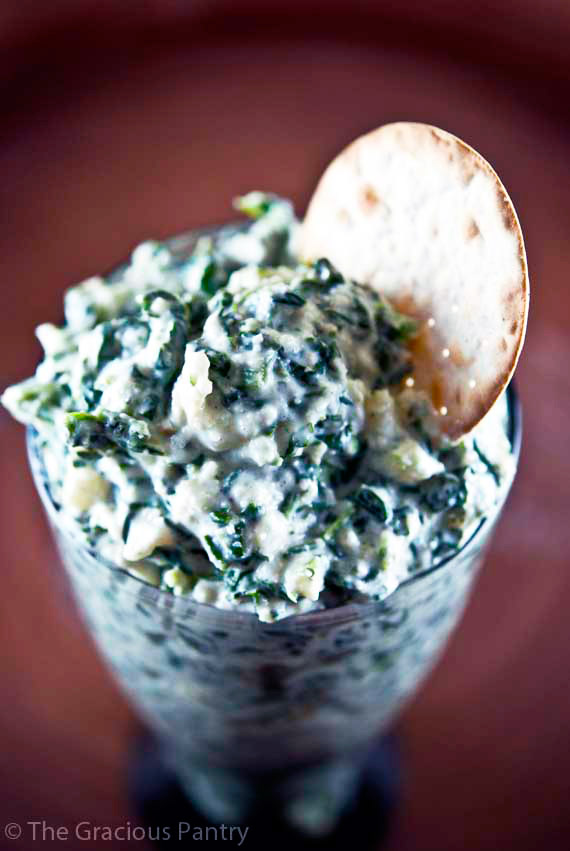 Spinach dip is a classic at many gatherings across the country. It's right up there with onion dip and ranch dip, and it's likely a good source of spinach for those who don't typically enjoy eating the green, leafy stuff.
But good gracious! The fat content on most containers of spinach dip is enough to send you running for your closest pair of big-boy-pants. And even then, you may have to leave the button undone.
So in the interest of saving you from all that running…. errr…. I mean, saving you from having to wear your big-boy-pants ~ehem~, here's my version of Clean Eating Spinach Dip.
YOU MIGHT ALSO ENJOY:

Recipe from the Gracious Pantry archives, originally posted 1/28/11.

Clean Eating Spinach Dip Recipe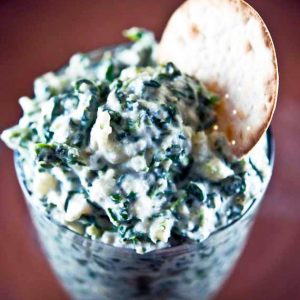 Author:
Tiffany McCauley | The Gracious Pantry.com
Yield:
Approximately 6 cups
Ingredients
1 (16 ounce) container cottage cheese (gluten free if needed)
10 ounce container frozen spinach, thawed
8 ounce can water chestnuts, chopped fine
2 tablespoons onion powder
1 teaspoon dried parsley
2 teaspoons garlic powder
½ teaspoon salt
Instructions
Using a blender, blend the cottage cheese until it is smooth and creamy.
Put the cottage cheese in a large mixing bowl, and add all other ingredients. Stir well.