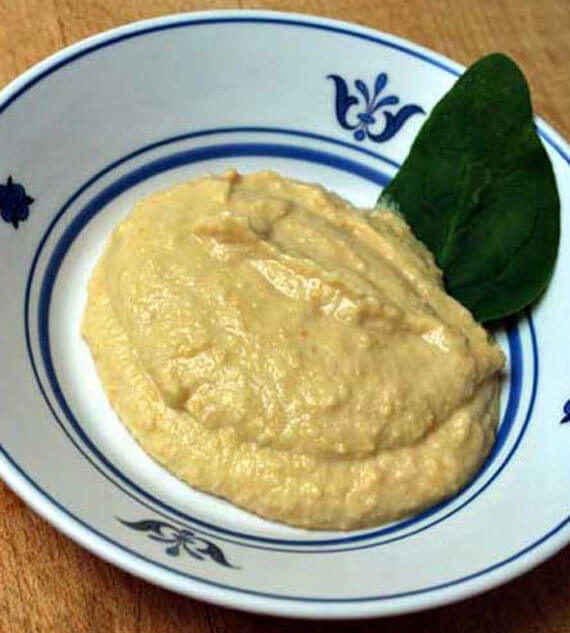 I have a love/hate relationship with hummus. I absolutely adore the stuff. But when I try to buy it in the store, it either costs an arm and a leg, or it has added sugar. Something I avoid completely.
I finally got fed up and tried my hand at making my own. And you know what? It was easy! All you need is a food processor or a hand blender (a regular blender will work fine too.).
And if you're wondering what to do with a large batch of hummus, here are some ideas:
Use it in place of salad dressing
Use it on sandwiches instead of mayo or other condiments
Use it as a dip for veggies and clean eating chips
Spread it over a tortilla and make a wrap with chicken & veggies
YOU MIGHT ALSO ENJOY:
Clean Eating Hummus
(Makes 3 cups or 12 servings)
Ingredients:
2 (15 ounce) cans chickpeas, drained and rinsed
Juice of 1 lemon
1/2 cup tahini sauce
1/2 teaspoon salt
1 clove of fresh garlic (2 garlic cloves if you don't have to talk to anybody the next day)
Water (optional) – just enough to get the right consistency
Directions:
Place all ingredients in your food processor and blend until smooth (Please remember to put the lid on before you turn on the processor!).
Note: If your Hummus is too thick, add either more lemon juice or a little water to loosen it up a bit.
Nutritional Content:
(Data is for 1/4 cup)
Calories: 145
Total Fat: 6 gm
Saturated Fats: 1 gm
Trans Fats: 0 gm
Cholesterol: 0 gm
Sodium: 318 mg
Carbohydrates: 18 gm
Dietary fiber: 4 gm
Sugars: 0 gm
Protein: 5 gm
Estimated Glycemic Load: 7
Please Note: Nutritional information estimated at Nutritiondata.com. Data may not be accurate and is subject to the availability of specific foods in their database. Where one ingredient is not listed, substitutions must be used. Therefore, you should not refer to this data as being exact. It's more of a ballpark figure. The Gracious Pantry does not take responsibility for the inadequacies of the nutrition calculator used. This data is provided as a courtesy and general reference only. It is not exact.