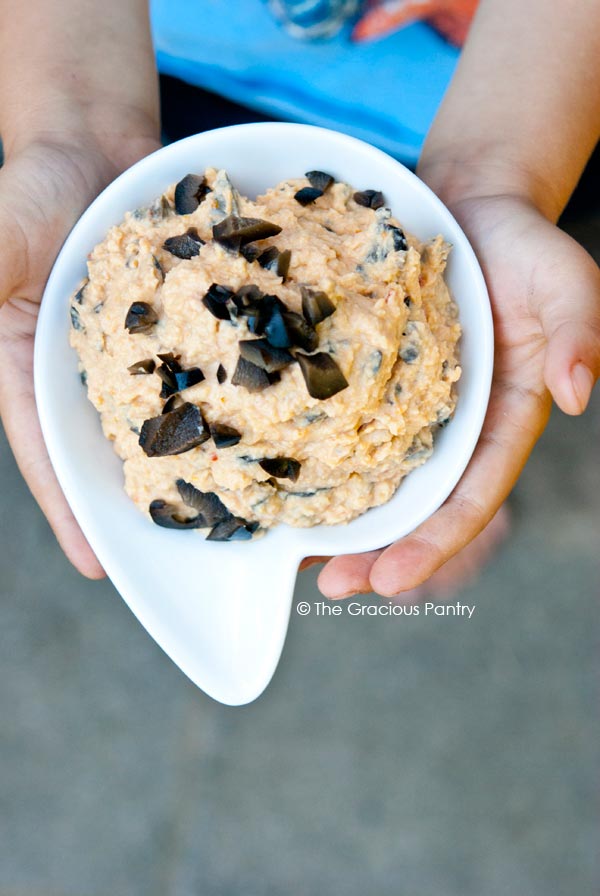 I have a complete love affair with hummus. I can't get enough of it. Whenever it's around, I can pretty much survive off of it for days at a time if I allow myself to. And believe me, I've had days where that has happened. Maybe it's not the most nutritionally sound way to complete the day, but I can think of far worse things to survive on.
Mini Chef was insistent on helping me with this batch. The evidence was all over his shirt, not to mention evidence of playing in the dirt for at least an hour. But that's a boy for you.
He sure was proud of himself when it was done.
YOU MIGHT ALSO ENJOY:

Clean Eating Sun Dried Tomato And Olive Hummus
(Makes about 3-1/2 cups or 13 servings)
Ingredients:
2 (15 ounce) cans chickpeas
Juice of 2 lemon
1/2 cup tahini sauce
1/2 teaspoon salt
1 tablespoon garlic powder
1 cup sun dried tomatoes
1 cup chopped black olives
Water – just enough to get the right consistencyDirections
Directions:
Place all ingredients, except the olives, in your food processor and blend until smooth.
When your hummus reaches the desired consistency, transfer to a mixing bowl and fold in the olives.