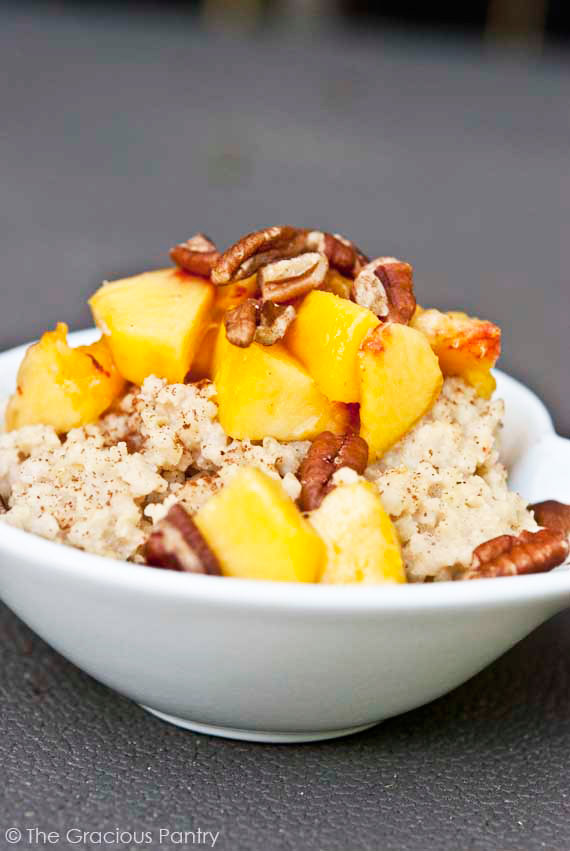 I'm always on the lookout for new breakfast ideas. I don't know why, but breakfast is the only meal of the day that I can be absolutely and unequivocally bored to tears with. So creativity with breakfast is an absolute must for me.
When I get bored with my oatmeal (Sssshhhhh!! You didn't read that!), I start looking at other grains. I truly believe that a variety of healthy foods is the best path to health. So I try to step outside the oatmeal box a bit and it's then that I realize I've truly been neglecting my grains. There's whole world of grains out there and it's ripe for the picking!!
Here is a list of grains that make delicious and unique breakfast cereals:
Quinoa
Barley
Farro (actually, an ancient strain of wheat)
Buckwheat
Kamut
Rice
Rye
Teff
But for now, we'll stick to an old favorite, Millet. It's mild flavored and mixes well with just about anything you want to add to it. It's a very versatile grain and makes for a wonderfully comforting breakfast.

Clean Eating Peaches And Millet
(Makes 3 servings)
Ingredients:
1/2 cup dry millet
2 cups milk + extra (regular, rice, almond or hemp milk work best)
1/4 teaspoon ground cinnamon
3 peaches, sliced or diced (1 peach per serving)
Pecans (optional)
Directions:
In a small pot, bring the 2 cups of milk, cinnamon and millet to a boil and immediately reduce to a simmer. It's best to keep the lid on, but check it from time to time. Different milks may need a slightly different amount than what's listed above. So just be sure it doesn't cook out before the millet is soft and cooked (about 30 minutes, depending on the milk).
When the millet is cooked, put 1/3 of it into a bowl, sprinkle with a little extra cinnamon and an extra dash of milk. Add one, cut up peach and 1/4 cup pecans to each bowl (assuming you are making all three servings).