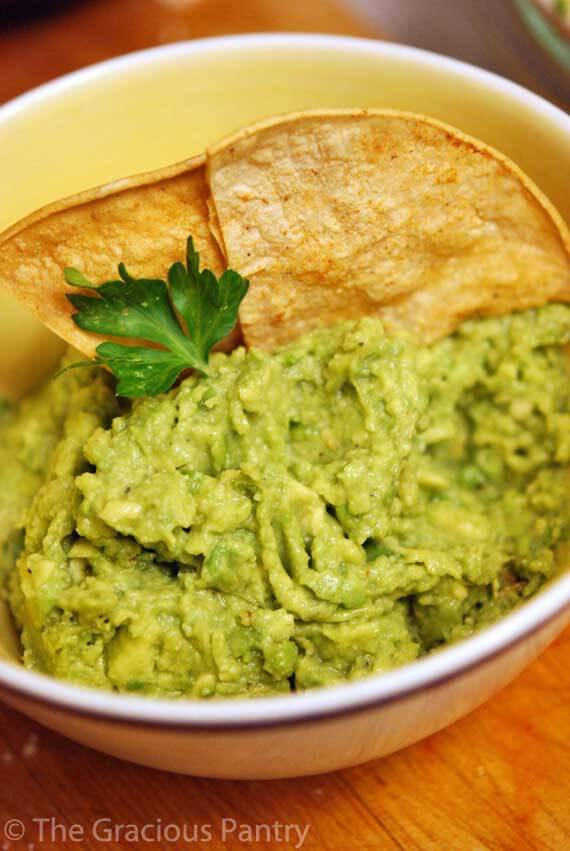 With all the Halloween parties going on, I thought I'd feature a more festive recipe today.
My Mom taught me this pretty early on. She loved to throw parties, especially for family. Birthdays were always a big "to-do" around our house, especially since my birthday is in July when the weather is nice and the parties can last into the wee hours of the night.
But whether she was entertaining 100 people, or making hors d' oeuvres for 1, she always had a way of preparing only the best for her guests. Natural, organic foods that didn't sit in your stomach like a ton of bricks by the end of the night. And this guacamole, was usually on the list.
I'm also happy to say, that it's a very simple recipe. You can prepare it in less time than it takes to get the avocados out of their skins!
The chip recipe was my own invention. I'm sure it's not unique or revolutionary in any way, but it is my very own recipe. And the best part is, you don't even need to measure anything!
YOU MIGHT ALSO ENJOY:

Clean Eating Chips And Guacamole
(Makes 6 servings)
Tortilla Chip Ingredients:
1 package corn tortillas (I use Traders Joe's Corn Tortillas – the cleanest I've found so far)
1/2 teaspoon salt
1 tablespoon garlic powder
Lemon juice (at least 2 lemons worth if you like "zing" on your chips)
1 teaspoon olive oil
Directions:
Take one bag of small corn tortillas and cut them into 4ths or 8ths. (Please check the ingredients on the tortillas you buy. Not all tortillas are created equal!)

Cover a cookie sheet with a VERY light spray of olive oil.
Lay out your tortilla pieces so that none of them cover each other.
Spray your tortilla pieces with a VERY light spray of olive oil.
Sprinkle with lemon (or lime) juice, garlic and salt.
Bake in the oven at 350 degrees F. until crispy (About 15-25 minutes, depending on your oven).