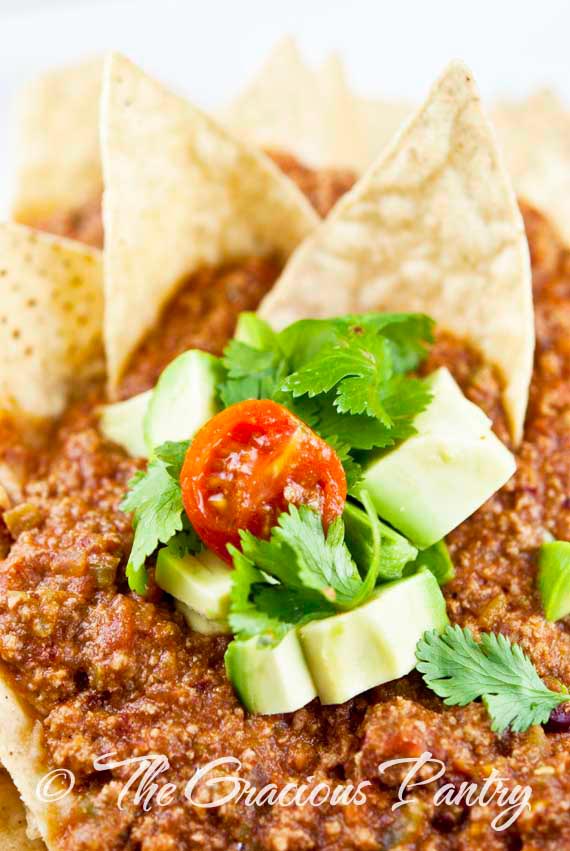 There's just something about nachos that resonates with my soul. The salty crunchiness of the chips paired with zesty, seductive chili makes my spine tingle every time.
And far be it from me forgo any spine-tingling experiences around here, so I just HAD to come up with a clean eating recipe for this!
I have to admit that skipping the dairy (I'm allergic) on this was tough. I missed the cheese. Just a little bit.
But once I got passed it, I swear they were just as good… no, better, than any nachos I could order in a restaurant! Cheese or no cheese, I know you're going to love them too!
YOU MIGHT ALSO ENJOY: 

Clean Eating Chili Nachos
(Makes approximately 10 servings)
Directions:
Make the chili according to the recipe.
Stir in the cayenne if you like a spicier chili.
When it's done, you can take the optional step of using a hand blender to blend up the chili. It takes on more of a "chili-cheese" consistency that way. But it's not necessary.
Pour a cup of chili over some corn chips and top with tomatoes, avocado and plenty of fresh cilantro!