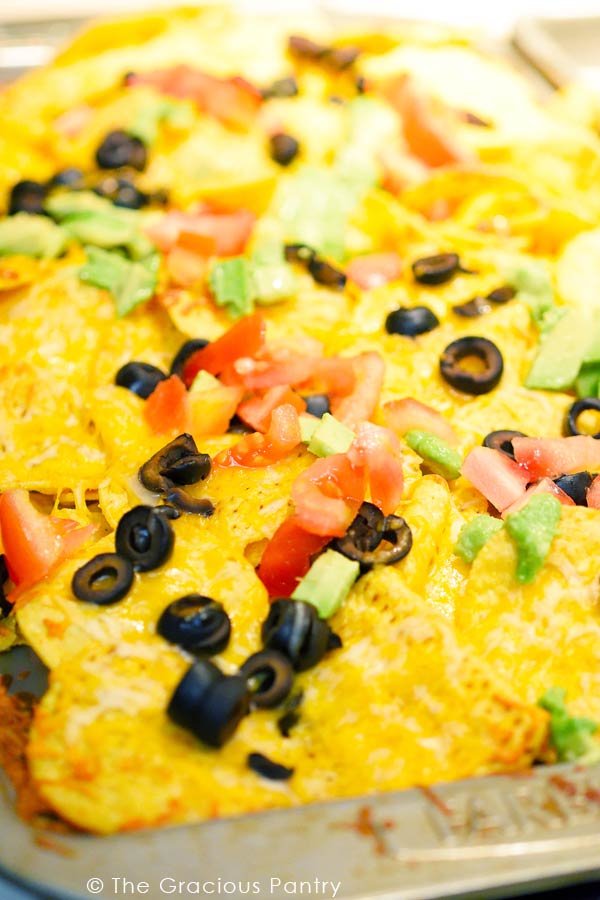 It's been a good long while since I've done a Simple Recipe. If you don't know what I mean by that, it's simply a recipe that doesn't really require any measured ingredients. You just add ingredients as you like, cook and eat. These are the types of meals that are quick and easy to put together if you have all the ingredients in the fridge or cupboard, or can make a quick run to the store. I have a whole bunch of them here.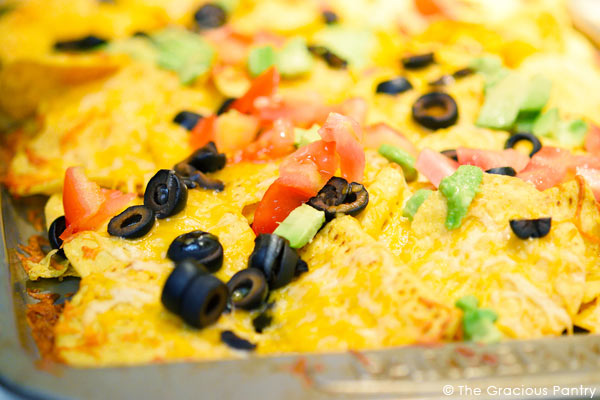 Below I have a link to homemade corn chips if you prefer to do that. I will say, it can be tough to locate clean corn tortillas or even chips for that matter. For me personally, this sort of falls into that 80/20 rule simply because I buy organic corn chips at Trader Joe's. It's a very short ingredient list corn, lime, oil and salt. So I'm pretty comfortable with that on an occasional basis.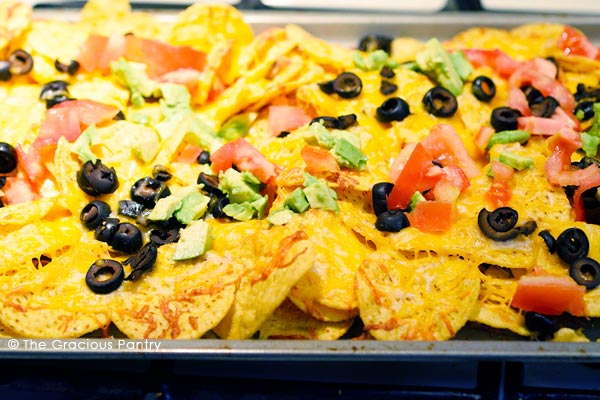 I've been struggling lately with feeling inspired in the kitchen. It's been tough to come up with recipes since my mom passed. I know it's all part of the process, but instead of becoming frustrated that I'm not in a creative frame of mind, I'm getting back to making very simple meals. It takes some stress off of me and keeps things going here on the blog while I work on getting my "creative groove" back. It all takes time I guess.
But in the mean time, this made a fast and easy meal for Mini Chef. I usually avoid dairy due to allergies, but I caved and had some of this with him. It was really yummy!
YOU MIGHT ALSO ENJOY:

Clean Eating Sheet Pan Nachos Recipe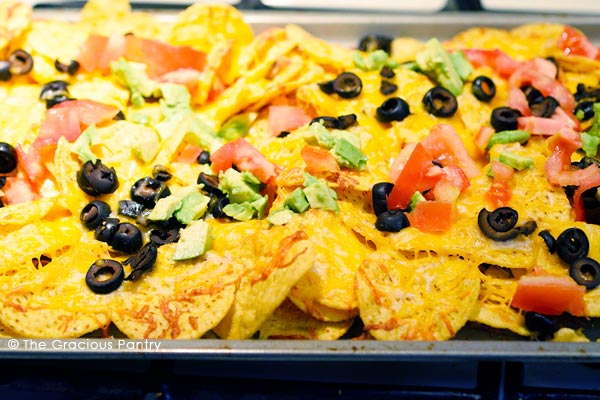 Author:
Tiffany McCauley | The Gracious Pantry.com
Ingredients
Clean Corn Chips
Shredded Cheese of your preference (shred a block of cheese at home to keep it clean)
Black Olives
Chopped Tomatoes/li>
Chopped onions
Chopped avocado or homemade guacamole (see link above)
Any other of your favorite nacho toppings
Instructions
Lay the chips over an ungreased cookie sheet
Add olives onions and any other toppings that require cooking and top with cheese.
Bake at 350 for about 10 minutes or until the cheese is fully melted.
Remove from oven with an oven bit and top with the remaining toppings.
Enjoy right off the sheet pan! (Just don't burn yourself!)