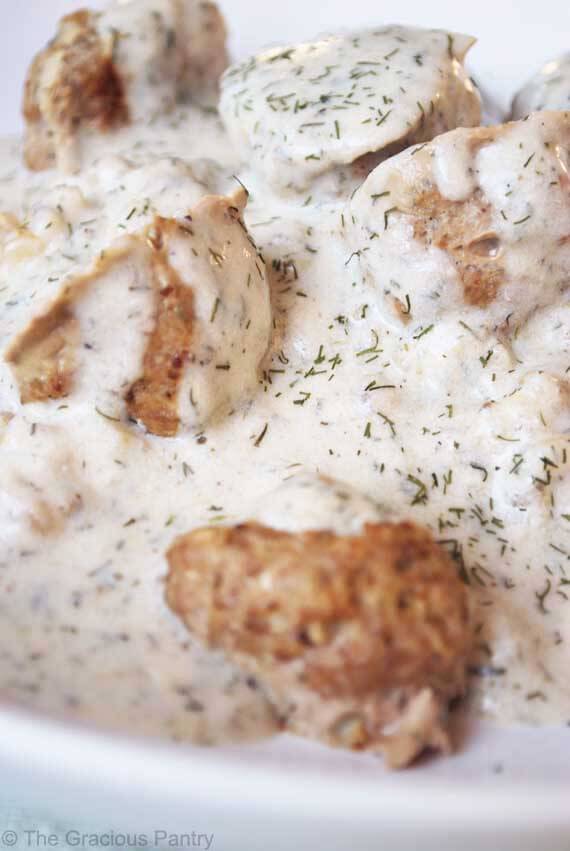 Brace yourself. This recipe is amazing!
I recently asked my Facebook fans to send me some recipes that they wanted to have "cleaned up".
I received one recipe in particular that I just had to try immediately.
Danish Meatballs.
I have no idea what the original recipe tastes like because I never made it. I simply took the recipe this reader sent me and started making substitutions. Apparently, the original recipe came from a cookbook called "Eat Drink & Be Chinaberry". I'm not sure what the title is referring to, but I'm so grateful for the recipe. My son loved it, as did the rest of my family, and it was something wonderfully different for dinner.
Prep time: It took me about an hour to prepare the whole thing.
You simply MUST try these!
This recipe from the Gracious Pantry archives, originally posted: 8/11/10.
RECIPES USED:

Clean Eating Danish Meatballs Recipe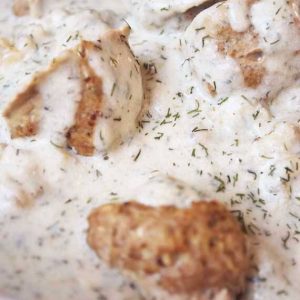 Author:
Tiffany McCauley | The Gracious Pantry.com
Yield:
About 40 meatballs
Ingredients
MEATBALL INGREDIENTS:
1 package ground turkey meat (about 1½ lbs, give or take.)
¼ teaspoon ground black pepper
1 tablespoon dried onion
¼ cup non-fat Greek yogurt
½ cup bread crumbs (see recipe link above)
⅛ teaspoon nutmeg
1 whole egg
SAUCE INGREDIENTS:
1 tablespoon olive oil
¼ cup whole wheat pastry flour
2 cups chicken stock (see recipe link above)
1 teaspoon salt (omit if you use prepared stock or broth)
2 teaspoons dried dill weed
1 teaspoon garlic powder
1 cup non-fat Greek yogurt
Instructions
Preheat oven to 375 degrees F.
If you want to have a grain with this dish, put on a pot of brown rice or some whole wheat noodles while you make this recipe.
Line two cookie sheets with parchment paper.
Place all the meatball ingredients in a mixing bowl and mix with your hands until well blended.
Roll the meat blend into small (about 1 inch in diameter) balls and place on your cookie sheets. You can place them somewhat close together. They don't spread during baking. Just be sure there is some room between them so the heat can circulate well around them. On a standard cookie sheet, I got about 20.
Bake for 20-30 minutes, or until they reach at least 170 degrees F. I baked mine a little longer just to get a nice golden "glow" to them.
Remove from oven and allow to cool slightly. (Enough so you don't burn yourself!)
Once the meatballs are in the oven, move on to making the sauce. Both should finish about the same time.
While the meatballs are in the oven, place your olive oil and flour in a medium-sized pot.
Warm this mixture over medium-high heat. It will be "paste-like" at first. But then it'll get a little "crumbly".
Once you have crumbs, slowly add your chicken stock/broth stirring vigorously with a whisk. The idea is to get the crumbs to dissolve into the broth. Once dissolved, add your salt (optional), dill and garlic. Allow the mixture to simmer slightly until it has thickened a bit.
Once the sauce has thickened, remove the pot from the stove. Whisk in your yogurt, and the sauce is done!
Combine the sauce and meatballs and you've got a fantastic meal!