Quinoa is one of those foods that has endless possibilities. You can prepare it sweet or savory and with just about any ingredient (almost any) and you can rest assured you will probably enjoy your meal.
Mini Chef has been sick for the past week or so with an inner ear and sinus issue. So I've been focusing on meals that are pretty quick and easy to put together. I mean there's only so much a single mom can do in one day!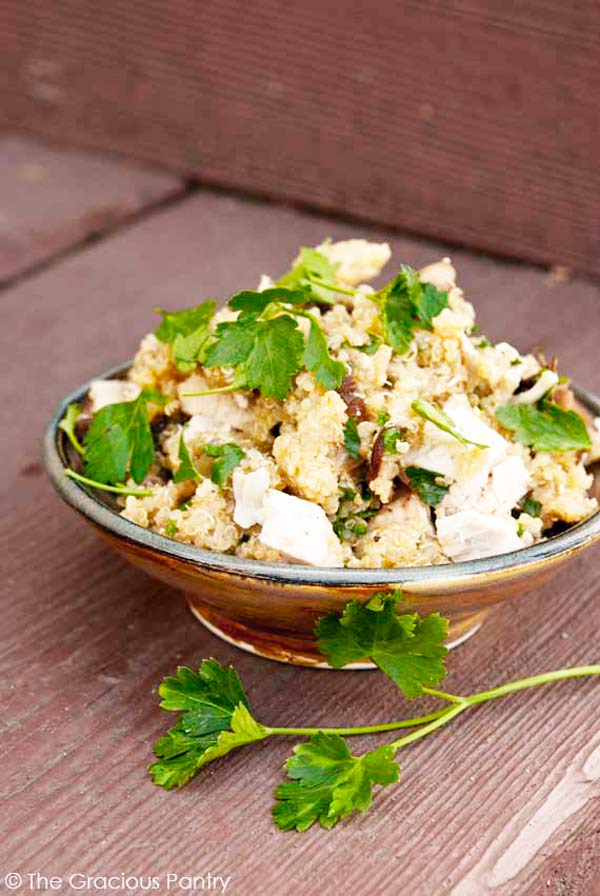 I had some leftover chicken breasts in the fridge that needed to be used up. And that's what made this Clean Eating Chicken And Mushroom Quinoa so nice and easy. So if you cook chicken ahead of time like I do, this is a great way to use it up. And if you prefer to add more spice, it's easy to stir in at the end while everything is still warm. The flavors are pretty simple, but I was fine with that and it seemed Mini Chef was too. Of course, with a stuffy nose, he couldn't taste much anyway. But he ate it without complaint which made me happy. He can be pretty picky when he's sick!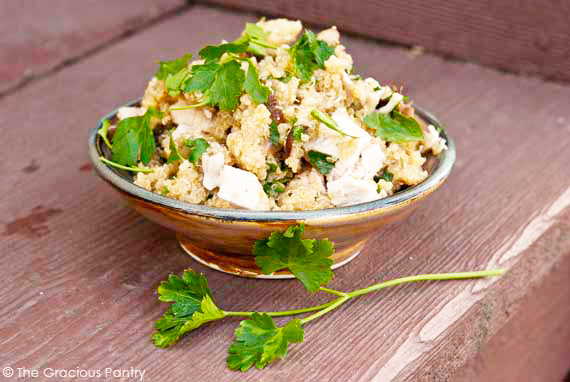 YOU MIGHT ALSO ENJOY:

From the Gracious Pantry archives. Originally posted 2/26/14.
Clean Eating Chicken And Mushroom Quinoa Recipe
Author:
Serves:
Approximately 11 cups
Ingredients
2 cups dry quinoa
1 tbsp. garlic powder
4 cups chicken broth
14 oz. sliced crimini mushrooms
1/2 large, red onion
1 tbsp. coconut or extra virgin olive oil (I used coconut)
3 large, baked chicken breasts, cut into chunks
1 cup chopped, fresh, Italian (flat leaf) parsley
Salt and pepper to taste after cooking.
Instructions
Bake your chicken breasts at 350 F. for about 40 minutes or until they reach at least 165 F. on a meat thermometer. (I sprinkled mine with garlic powder, salt and pepper for added flavor)
While that bakes, cook the quinoa with the garlic powder in the chicken broth to package directions.
While that is cooking, sauté the mushrooms and onion in the oil over low to medium heat. Keep the heat low so that the liquid from the mushrooms will seep out and help cook them. This way you won't have to add more oil.
When the chicken is done, cut it into chunks and stir into the finished quinoa along with the parsley.
Cool a bit and serve.