Clean Eating Southwestern Butternut Squash Soup Recipe
This post may contain affiliate links. Read my
Privacy Policy.
As an Amazon Associate I earn from qualifying purchases.
Every once in a while, I get into the mood for a certain type or flavor of food. It doesn't happen often, but when it does, it's the only type of food I want for a week. At least until I get sick of it.
This past week, I've been totally in the mood for southwestern flavors. I just cannot seem to get enough! So when I saw my two lonely little butternut squashes sitting on my counter all forlorn looking, I knew I had to spice things up for them a bit with a little spice and cilantro!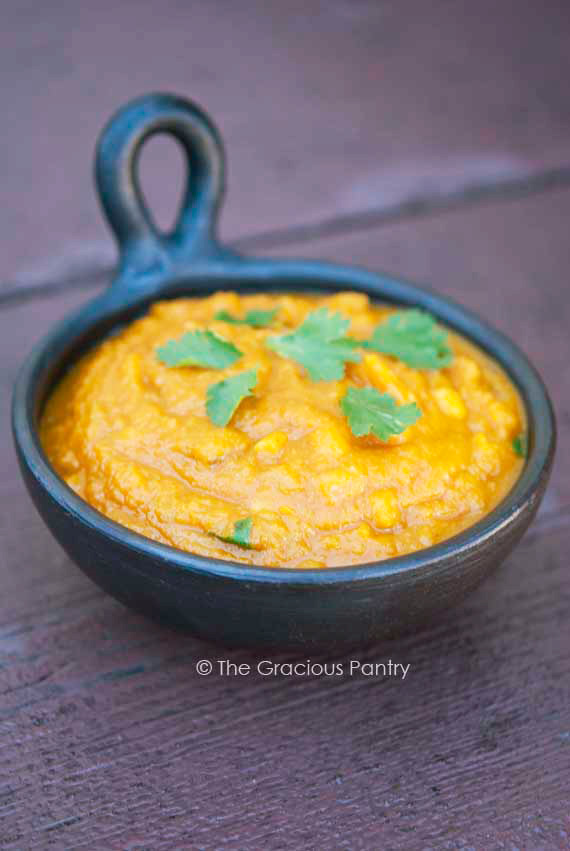 I love southwestern flavors. Maybe because they remind me so much of Mexican style food (my absolute fav!)
YOU MIGHT ALSO ENJOY:

Clean Eating Southwestern Butternut Squash Soup Recipe
Author:
Cook time:
Total time:
Serves:
Approximately 8 servings
Ingredients
2 medium butternut squashes (approximately 3 – 3 1/2 pounds each)
1 medium red onion, chopped
1 tbsp. olive oil
1 tbsp. garlic powder
1 tsp. chili powder
1 tbsp. ground cumin
2 cups chicken broth
1 1/2 cups corn
Fresh cilantro for garnish
Instructions
Cut the squash in half and scrap out the seeds.
Place them, cut side down, on a cookie sheet. Fill the cookie sheet with about a 1/2 inch of water. Place in oven at 350 F. and bake until you can easily poke through the rind and flesh with a knife (about 1 hour).
While the squash bakes, sauté the onions in the olive oil until caramelized and set aside.
Allow to cool and scrape out the flesh into a medium soup pot. (Into a blender if you don't have an immersion blender.)
Add the broth (you don't have to add all the broth if it won't fit in your blender, just a little to get things nice and smooth) and blend with an immersion blender until the squash is very smooth.
Stir in all other ingredients including the onions and warm over medium heat, stirring frequently.
Add salt to taste and serve topped with fresh cilantro.
This recipe from the Gracious Pantry archives. Originally posted 1/27/14.
SaveSave