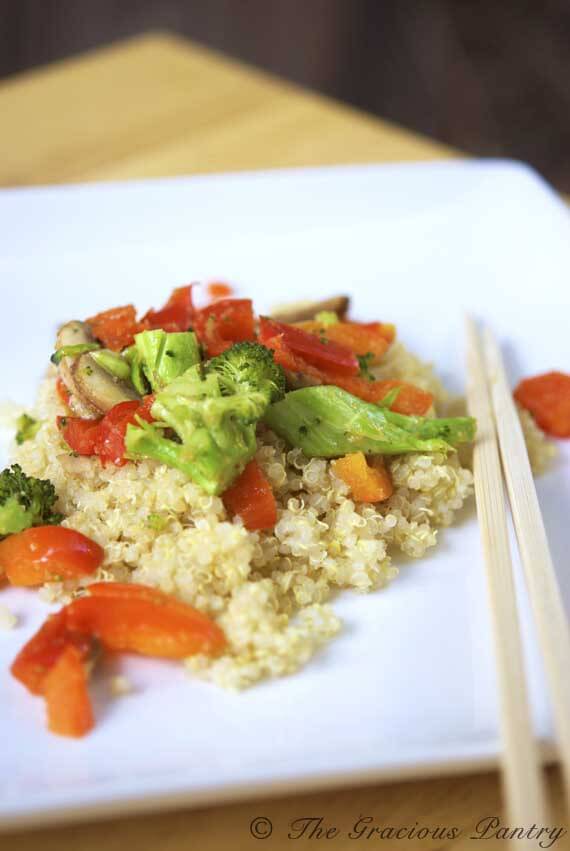 I'm always so shocked when somebody asks me, "what's that?".  Quinoa is fabulous stuff. Doesn't everybody know about it by now?
I guess not because one of my closest friends asked me that very question the other day. Oh, where have I gone wrong that some of the closest people in my life still do not know what quinoa is???!!! The shame…..
But rest assured, I will work hard to remedy the situation. This just cannot go on. Everyone MUST try quinoa at least once in their lives. And if you're a quinoa lover like I am, you know what I mean. It's just fabulous stuff!
Okay, I'll stop going on about it now and get to the recipe. A recipe which even Mini Chef asked for seconds of.
YOU MIGHT ALSO ENJOY:

Clean Eating Vegetable Quinoa Stir Fry
(Makes 3 servings)
Ingredients:
1 large red bell pepper, chopped
1 1/2 cups chopped, raw broccoli
1 cup sliced, brown mushrooms
1 teaspoon garlic powder OR 1 tbsp. chopped, fresh garlic
1 teaspoon onion powder OR 1/2 a chopped, red onion
1 tablespoon virgin coconut oil
3 cups cooked quinoa
Low sodium, organic Coconut Aminos, Tamari or Soy sauce for topping
Directions:
In the coconut oil, sauté all of the vegetables until cooked to your liking. Al dente is typically best for retaining nutrients.
Serve over the cooked quinoa and top with a little tamari or soy sauce.