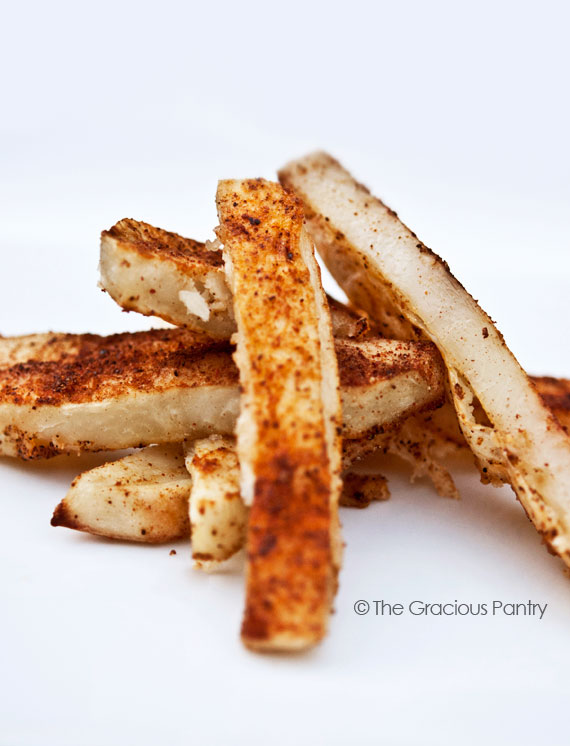 Potatoes are versatile little doohickies. Whether you prefer them white or of the sweet variety, your options are pretty limitless. Potato fries or wedges are just one case in point…
What I love most about this recipe is that you can use either white potatoes or sweet potatoes. Either way, you'll end up with something yummy!
I should say though that if you use sweet potatoes, cut them more like traditional fries. They seem to cook better then in wedges. Just my personal take..
Oh, and just one more personal preference, these were awesome dipped in mustard! (Probably not everyone's cup of tea though…)
YOU MIGHT ALSO ENJOY:

Clean Eating Seasoned Potato Wedges
Ingredients:
Potatoes, peeled and cut in to wedges
Olive oil in an oil sprayer
1 teaspoon cumin
2 teaspoons chili powder
2 teaspoons garlic powder
Directions:
Preheat oven to 350 degrees F.
In a small mixing bowl, combine your spices.
Spray a cookie sheet with olive oil and spread out the potato wedges in a single layer.
Sprinkle the spices over the potatoes. Go ahead, be generous.
Bake for about 20-30 minutes or until the potatoes are soft when poked with a fork.
If you like soft fries, you can take them out of the oven now. If you like crunchier fries, turn your oven on broil and broil for about 10 minutes more, or until the potatoes start to brown nicely.
Allow to cool for a bit. (Potatoes tend to hold on to heat!)