These potato wedges are perfect for a snack or a side dish to your favorite, homemade burger.
Potatoes are versatile little doohickies. Whether you prefer them white or of the sweet variety, your options are pretty limitless. Potato fries or wedges are just one case in point…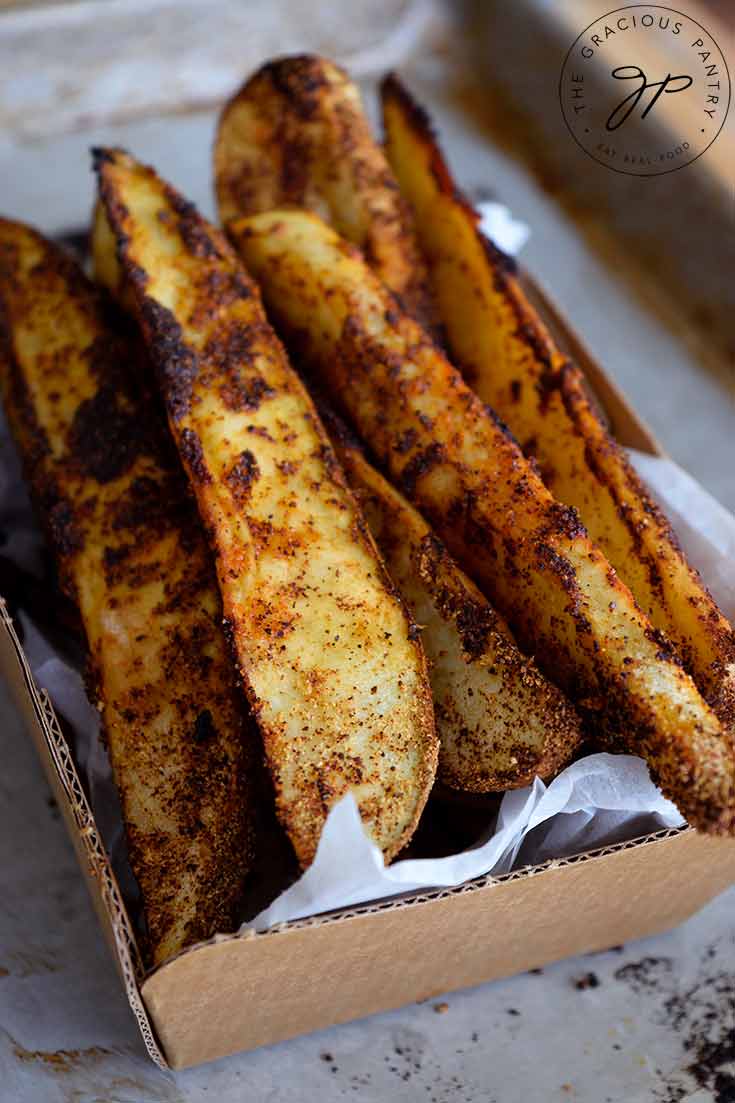 What I love most about this recipe is that you can use either white potatoes or sweet potatoes. Either way, you'll end up with something yummy!
I should say though that if you use sweet potatoes, cut them more like traditional fries. They seem to cook better then in wedges. Just my personal take..
Oh, and just one more personal preference, these were awesome dipped in mustard! (Probably not everyone's cup of tea though…)
I've gotten a few questions about potato wedges, so I'll answer them here.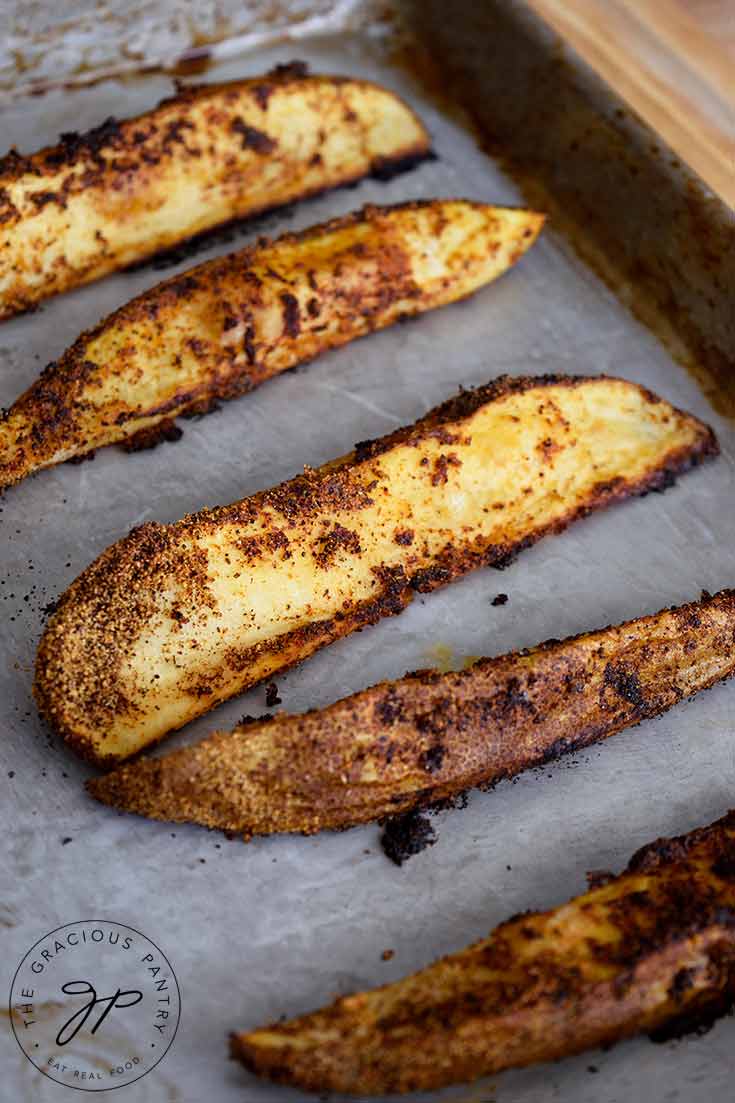 ARE POTATO WEDGES GLUTEN FREE?
Potatoes are naturally gluten free. So as long as you don't add anything to them that contains gluten, they are totally gluten free! This recipe has nothing added that contains gluten, but always be sure to get your ingredients from gluten free sources as needed.
ARE POTATOES HEALTHY?
Depending on who you ask, you'll get different answers. Potatoes are a universally loved, starchy vegetable. The answer to this question is actually, "it depends". The truth is, a potato would be a bad idea for somebody with blood sugar problems, but be just fine for somebody without those issues. They are just fine if they are not drenched, drowned or otherwise dressed in fats and sugar-ladden ketchup. So how you prepare them makes a huge difference.
One of the reasons potatoes get such a bad wrap is because of how we typically eat them. Think about the toppings most folks put on a baked potato. Sour cream, bacon, butter, etc. We deep fry our fries, we add tons of butter and sour cream to mashed potatoes…. these poor lil' veggies don't stand a chance! But reduce the fat content, add a little flavor and serve it with the right sauce or topping and there's no reason a reasonably healthy person can't enjoy the occasional potato. Would I eat one every day? Probably not. But I wouldn't avoid them completely either. Just my two cents.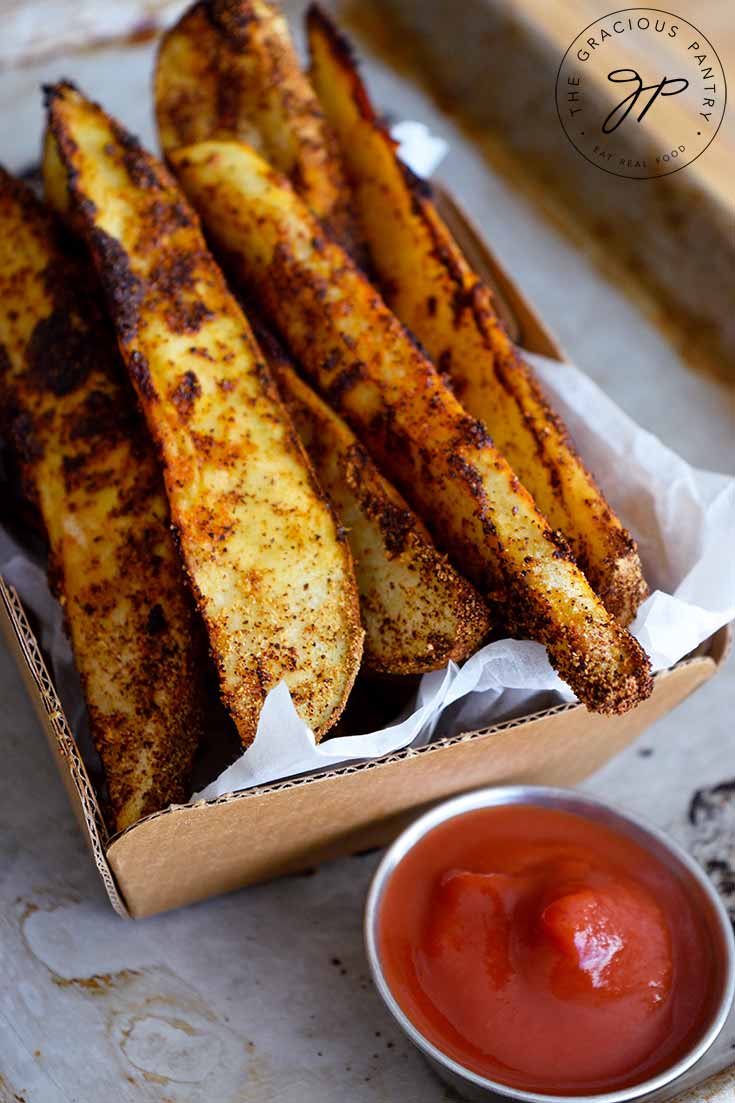 MORE HEALTH FRENCH FRY RECIPES:
HOW TO MAKE POTATO WEDGES:
Click play to see me and this recipe in action!


POTATO WEDGES RECIPE: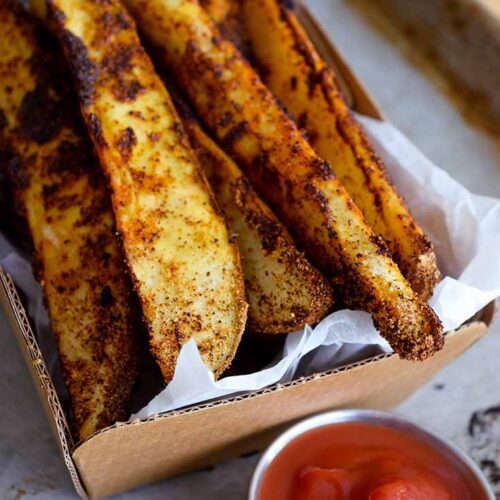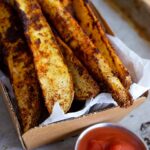 Potato Wedges Recipe
A delicious snack or side dish!
Course:
Side Dish, Snack, Vegetables
Ingredients
2

medium

russet potatoes

(peeled and cut into wedges or fries)

1

tbsp.

oil

2

tsp.

garlic powder

1

tsp.

chili powder

1

tsp.

ground cumin
Instructions
Preheat oven to 350 degrees F.

Combine all ingredients in a large, zipper-top bag and seal the bag.

Shake well to coat all the potatoes in oil and spices.

Pour the potatoes out onto a baking sheet.

Bake for about 20-30 minutes or until the potatoes are soft when poked with a fork.

If you like soft fries, you can take them out of the oven now. If you like crunchier fries, turn your oven on broil and broil for about 10 minutes more, or until the potatoes start to brown nicely.

Allow to cool for a bit. (Potatoes tend to hold on to heat!)
Recipe Notes
Please note that the nutrition data given here is a ballpark figure. Exact data is not possible.
Nutrition Facts
Potato Wedges Recipe
Amount Per Serving (0.25 the recipe)
Calories 123
Calories from Fat 36
% Daily Value*
Fat 4g6%
Sodium 15mg1%
Potassium 481mg14%
Carbohydrates 21g7%
Protein 3g6%
Vitamin A 148IU3%
Vitamin C 6mg7%
Calcium 19mg2%
Iron 1mg6%
* Percent Daily Values are based on a 2000 calorie diet.
Recipe from the Gracious Pantry® archives, originally posted 1/10/12.