I'm an evil woman. I know this about myself.
You see, I have this diabolical plan for my son's nutrition. If I can introduce him to the healthy versions of every kind of junk food out there…. and really get him to like the healthy pizza, burgers, fries, chicken fingers and milk shakes, then… when he eats the actual junk food (and you know he'll get his hands on it somehow, somewhere, some way, at some point), he won't like it. Or at the very least, he'll know how to prepare the healthier version when he gets older and won't mind doing so.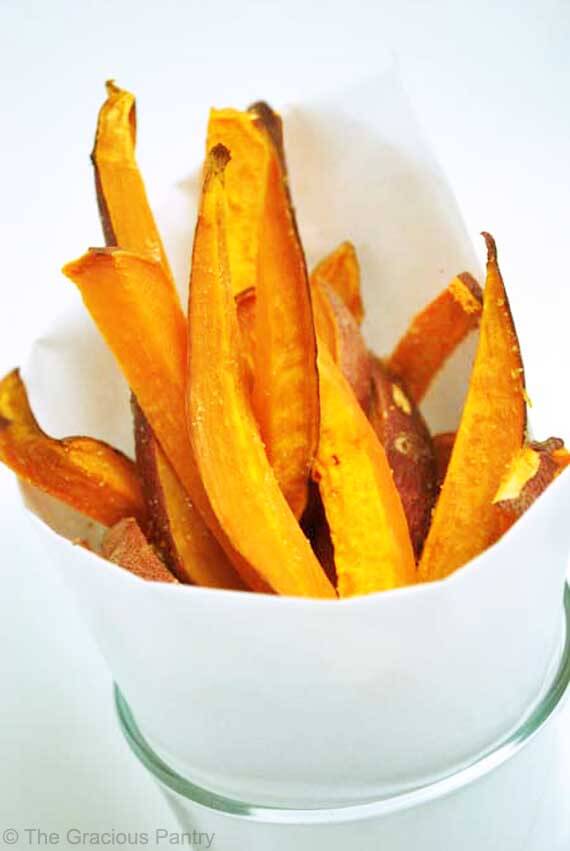 If there's one thing I've learned about clean eating, it's that if you do it long enough, you can never really go back. Junk food just doesn't taste the same. For the most part, it tastes like…. junk. (What a concept!)
So I devised this rather simple recipe for clean eating french fries.
The great thing about kids, is that their taste buds haven't been totally annihilated by refined foods yet. They tend to prefer simple things without a ton of over-the-top flavor.
Unless you give your kids McDonald's french fries on a regular basis, I would be willing to bet they will love these. And even if they do get the McDonald fries (~gasp!), give these a try. I bet your kids will surprise you.
And guess what…. my son LOVES them!
Part 1 of my diabolical plan is in motion. Of course, it will be years before we arrive at part 2 (the tasting of actual junk food), but I'm okay with that. It gives me years to brain wash him into loving healthy foods.
Evil.
Yep….
Evil.
YOU MIGHT ALSO ENJOY: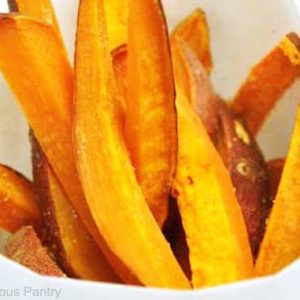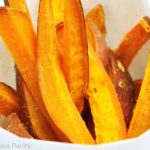 Clean Eating Sweet Potato Fries
Ingredients
4

small

sweet potatoes

olive oil in an oil sprayer

garlic powder

salt to taste after baking
Instructions
Clean and cut your potatoes into kid friendly sizes.

Lay them out in a single layer on a cookie sheet lined with parchment paper (no wax paper please!)

Spray with a very light coat of olive oil.

Sprinkle a generous amount of garlic powder over the potatoes.

Bake at 350 degrees F. for approximately 30 - 40 minutes.

Sprinkle with a VERY light coat of salt. This is just enough to bring out the flavors. NOT enough to actually make them salty. About 1/4 tsp. for the entire batch.

Let cool slightly and serve.