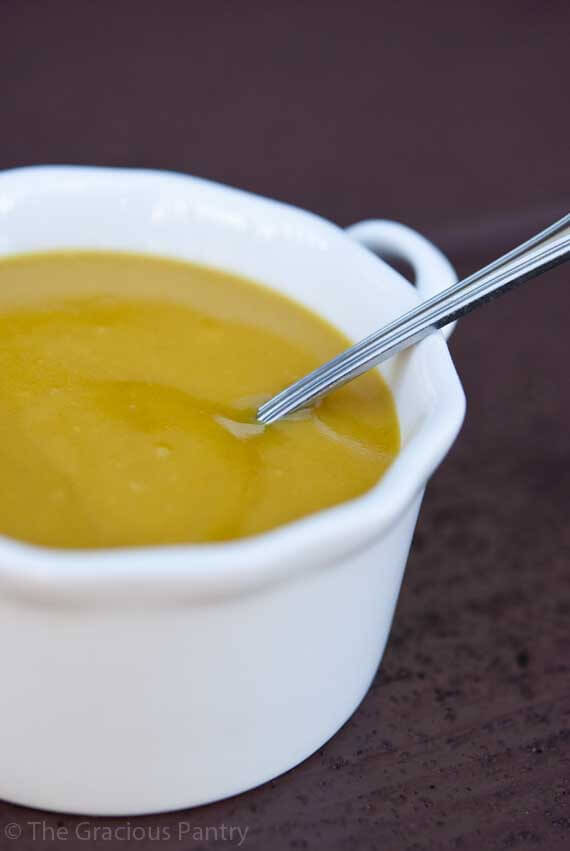 Honey mustard has never been the first dressing I think of when it's time to have a salad. In fact, it's NEVER been in my fridge until now.
Growing up, I was much more partial to dairy based dressings. Perhaps it was my German upbringing, but still to this day the first dressing I want to grab for is blue cheese or ranch. I'm not sure who's ideas it was to put dairy on a salad, but it works, and I love it to this day.
But since I gave up dairy (again…), I've had to come up with alternative dressings. So I finally knuckled down and tried honey mustard. And while I would still prefer ranch or blue cheese, I have to say that this is a pretty tasty substitute.
YOU MIGHT ALSO ENJOY:

Clean Eating Honey Mustard Dressing
(Makes approximately 1/3 cup)
Ingredients:
4 tablespoons light flavored oil (such as grapeseed or safflower oil)
3 tablespoons prepared yellow mustard, no sugar added
3 tablespoons honey
1 – 2 tablespoons apple cider vinegar (to taste)
1 pinch salt to taste
Directions:
Whisk all ingredients together in a medium sized mixing bowl.
If it's too thick for you, simply add water, 1 tablespoon at a time, until you reach the consistency you like best.