These clean eating popcorn seasoning recipes make the perfect holiday gift for the popcorn lovers in your life!
I love giving food gifts for the holidays. They are incredibly personal because they are so customizable. They also happen to be affordable and always well received.
This week at The Gracious Pantry is all about holiday food gifts. Unique, always appreciated, food gifts.
Popcorn seasoning is fabulous stuff. It gives you so many options for enjoying an easy-going night in with family or your significant other. We don't own a TV at the moment, but some day we will, and when we do, I look forward to settling in with Mini Chef, a movie and a big bowl of popcorn for the evening. It's such a fun way to spend time together.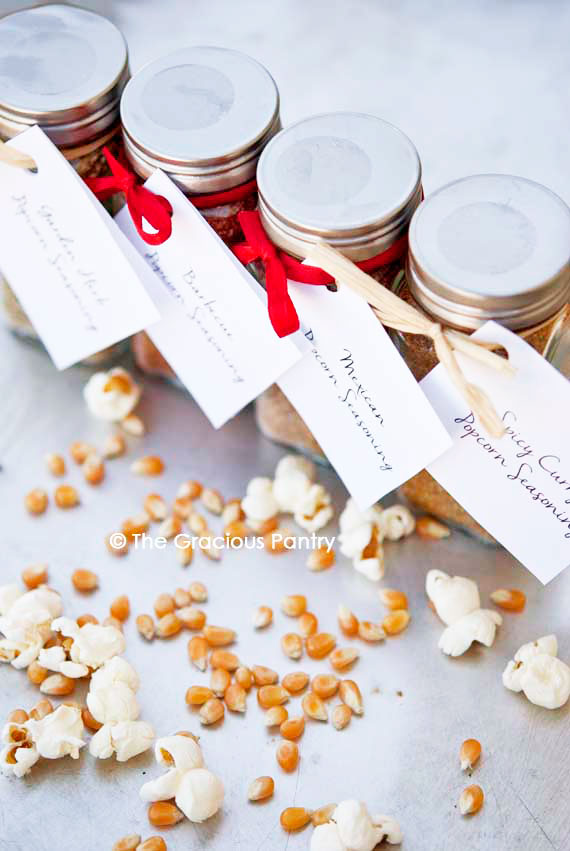 I had a taste tester for these recipes and she said that they were absolutely delicious. So you don't have to just take my word for it. You get her word too! Bonus!
You can sprinkle them on lightly for a delicate flavor or pile them on for a much stronger flavor. Whatever your taste buds prefer.
I do, however, recommend providing a nicely written or printed set of instructions to go with them. Here's what I would say:
Pop your popcorn, pour some warm oil or melted butter over the popcorn and then sprinkle a seasoning on as liberally as you like to taste. Toss popcorn to coat and enjoy!
People always appreciate instructions, even if they are basic. The important part there is the oil or butter. These seasonings won't stick if there is nothing for them to stick to.
WRAPPING/SHIPPING SUGGESTIONS:
TO GIVE: If you can find a spice jar set that comes with a rack or basket, you're set! Just wrap some clear plastic around it and include some popcorn to go with it.
TO GIVE: If you need to put it in a box (not for shipping), simply fill most of the box with tissue paper, lay the bottles down flat with the labels showing on top, and then cover with a bit more tissue paper. Just be sure to include some popcorn, and if you're really feeling generous, toss in a movie you know they's like!
TO SHIP: If you need to ship these, I highly recommend wrapping each bottle in bubble wrap separately. Include popcorn, and add peanuts all around to keep them from shifting. If you are tossing in a whole bag of popcorn, be sure to put it in a Ziploc bag in case the plastic package comes open en route. But regardless of whether the popcorn is in a plastic bag or a glass bottle, I recommend wrapping that individually in bubble wrap as well.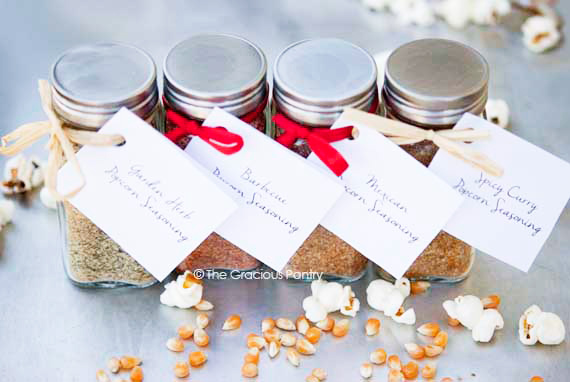 MORE GIFT IDEAS:

CLEAN EATING POPCORN SEASONING RECIPES:
 CLEAN EATING HERBAL POPCORN SEASONING RECIPE:
 CLEAN EATING MEXICAN POPCORN SEASONING RECIPE:
CLEAN EATING SPICY CURRY POPCORN SEASONING RECIPE:
CLEAN EATING BARBECUE POPCORN SEASONING RECIPE:
These recipes from The Gracious Pantry archives. First published 12/1/14.