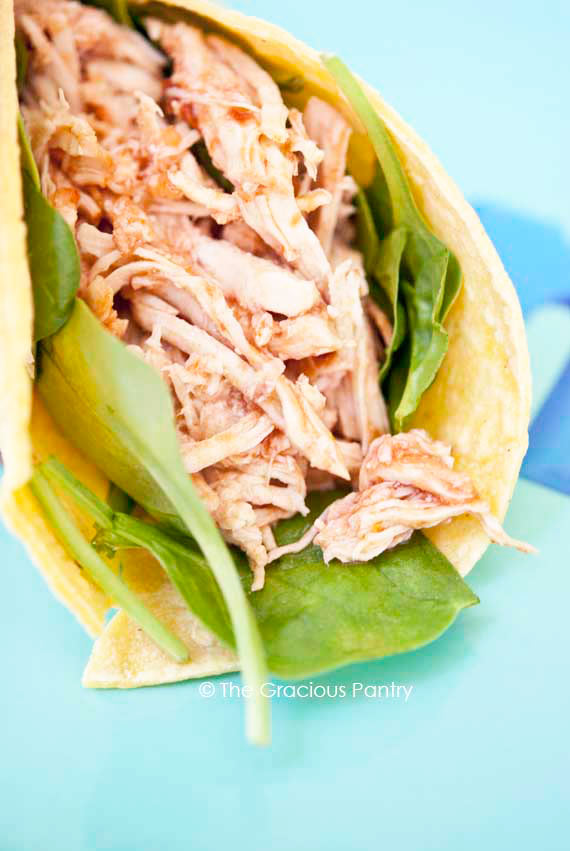 If you don't own a slow cooker, get one! Nothing makes life easier than putting a few ingredients into a slow cooker and walking away for hours just to come home to a hot meal!
This is my go-to recipe for Taco Tuesdays. I put it in the slow cooker 4 hours before I need it and then I have all that time to get ready. Just imagine the toppings you could prep in 4 hours! (So kidding). But truly, it's quick it's easy, it's healthy and with the right salsa, it's low carb to boot.
If you want to keep the tacos entirely low carb, check out my topping suggestions here.
YOU MIGHT ALSO ENJOY:
This recipe from The Gracious Pantry archives. Originally posted: December 21, 2014

Clean Eating 2 Ingredient Slow Cooker Taco Chicken Recipe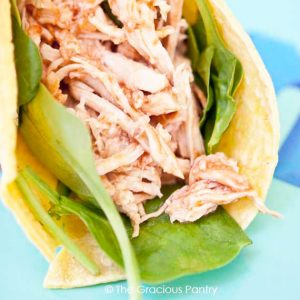 Author:
Tiffany McCauley | The Gracious Pantry.com
Ingredients
3 large, raw, boneless, skinless chicken breasts
1 cup salsa, no sugar added
Instructions
Place the chicken in your slow cooker and pour the salsa over the top. Cook on low for 4-6 hours or until the chicken shreds easily simply by stirring it.
NOTE: Do not lift the lid of your slow cooker until the end of the cooking time. Lifting the lid during cooking will lengthen the amount of time needed to cook as well as make it possible for bacteria to build on your food because the internal temperature of the slow cooker is not maintained.