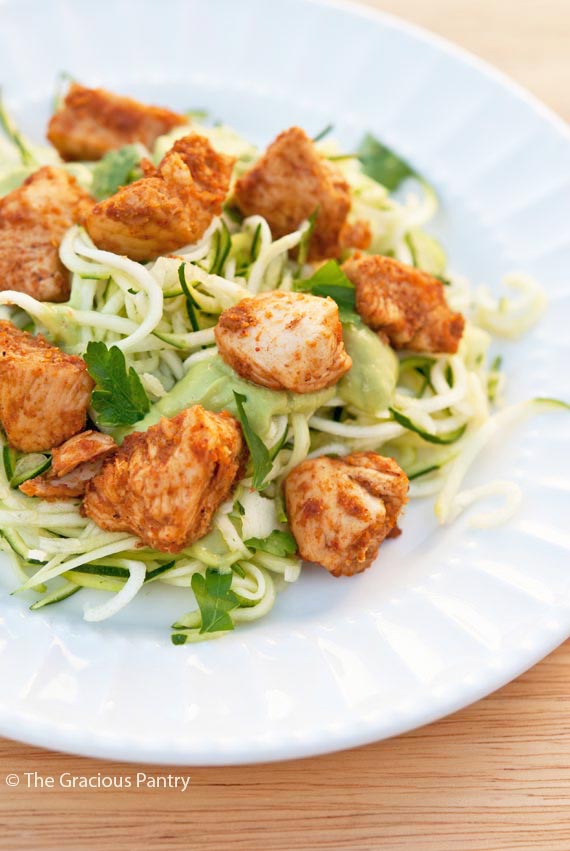 At first glance, this dish may not look like much more than some chicken and spiralized zucchini. But add just one more ingredient and it becomes something more like a Mexican chicken alfredo. Delish!
I've been figuring out ways to get more vegetables into my main meals and I'm finding that I enjoy zucchini and spaghetti squash "pasta" far more than the real stuff. I mean, I always new it was good, but the more I use it, the more it grows on me. It's quickly becoming my favorite way to enjoy pasta dishes, and I do love anything pasta related (one of my "clean eating downfalls"). After all, you can still "do yourself in" on clean food if you aren't careful. It's all a delicate balance. So veggie pasta really helps me. Plus you get all the added flavor from the vegetables! You really can't go wrong.
This recipe from the Gracious Pantry archives. Originally posted 3/24/14.
YOU MIGHT ALSO ENJOY:

Clean Eating Taco Chicken Zucchini Pasta Recipe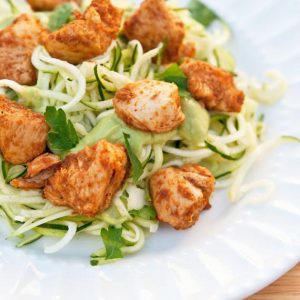 Author:
Tiffany McCauley | The Gracious Pantry.com
Ingredients
Zucchini, spiralized - as much as you like (I used 3 small/medium zucchinis)
1½ lb. boneless, skinless chicken breasts, cut into small chunks
1 tsp. coconut oil (non-stick pan) 1 tbsp. coconut oil (regular pan)
1 tsp. garlic powder
1 tsp. onion powder
1 tsp. ground cumin
1 tsp. chili powder
1½ medium avocados
2 tbsp. lemon juice
1 tsp. garlic powder
1 tsp. onion powder
1 tsp. ground cumin
Water as needed to get a good consistency
Instructions
Spiralize your zucchini and set aside in a large mixing bowl.
Place the cut chicken in a skillet with the coconut oil. Add the spices and cook, stirring constantly until the chicken is done. The smaller the chunks of chicken are, the faster it will cook.
In a blender, blend the avocados together with the spices to make a very smooth guacamole of sorts. Then add water as needed to make it just runny enough to call it "sauce". Remember though that this should be a thick sauce. Don't overdo the water.
Stir the sauce into the zucchini pasta and then add in the chicken.
Add salt and pepper to taste.