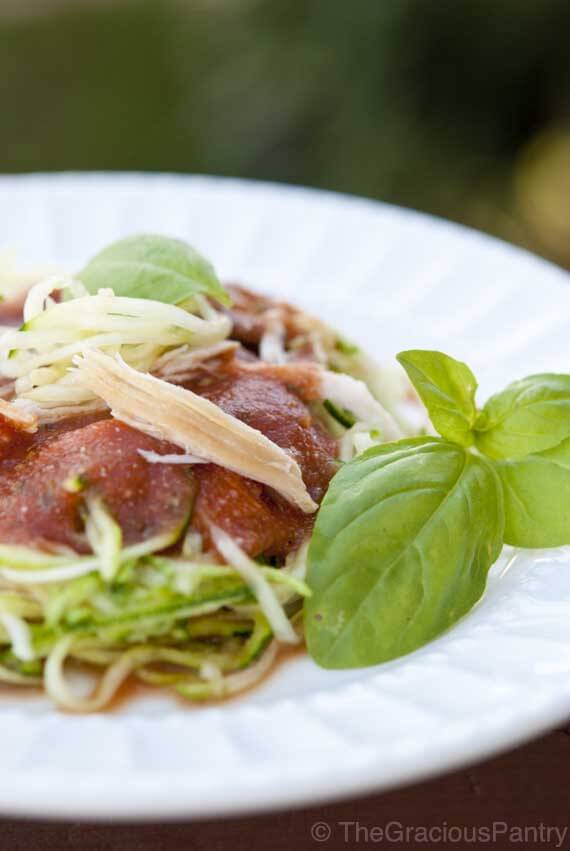 If you read yesterday's blog post, you can probably surmise that this dish was a smashing success here at the McCauley household. There was nothing, and I do mean nothing, left over when dinner was done.
Best part? It was mostly vegetables! And let's not forget the leftover turkey. I mean, that's the whole point of this week's recipes… using up that turkey you still have in your fridge!
I will admit that this is really more of any idea than a specific recipe. I like to do those occasionally. They're quick, simple and don't involve a lot of thought, measuring or dish washing. And what could be better than fewer dishes to wash after dinner?
Ya, I know. Better would be NO dishes to wash after dinner. But still. It's good. Try it.
YOU MIGHT ALSO ENJOY:

Clean Eating Leftover Turkey Spaghetti With Zucchini Noodles
Ingredients:
Leftover turkey, shredded
Clean spaghetti/marinara sauce (whatever your favorite sauce it)
Directions:
Warm your sauce in a pot and pour over the raw noodles. Mix in some turkey and enjoy!
Note: When making these noodles, you may notice a lot of water coming from the zucchini. You can drain this water in a colander prior to eating. Just let the noodles sit for a bit so the water can drain.