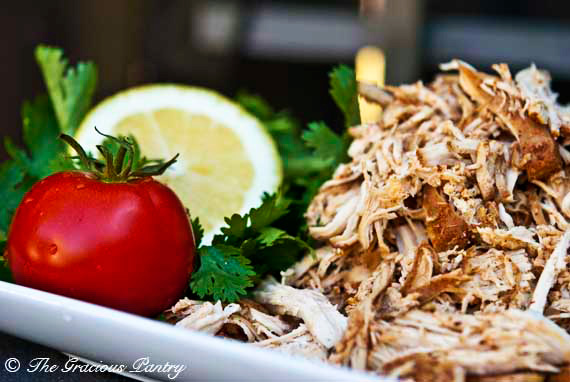 A while back, I made a recipe for slow cooker pineapple chicken that was just amazing and way too easy to make. And since I had such fabulous success with that recipe, it got me to thinking about other chicken recipes I could make like this.
So I did a little search online and came up with a lovely recipe from Good Life Eats I just had to try. Her recipe is wonderful and I fully intend on trying to make her version verbatim. But I was in a hurry and didn't have the time to sauté things. So I took a few shortcuts and came up with a really yummy chicken dish that is perfect for filling tacos (and that's exactly what I did!).
YOU MIGHT ALSO ENJOY: 

Clean Eating Easy Slow Cooker Mexican Chicken
(Makes 8 servings)
Directions:
Place all ingredients in a slow cooker and stir until the chicken breasts are well coated in the spices.
Arrange the chicken breasts in such a way that they are as close as possible to being a single layer.
Cook on low for 6-8 hours depending on your slow cooker.
If you are home, flip the chicken half way through its cooking time and arrange it into a single layer.
The chicken is done when it easily falls apart.