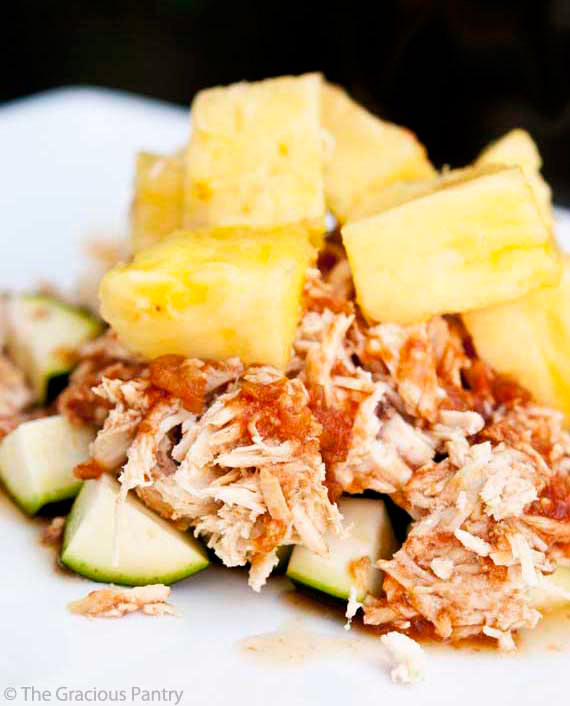 The idea for this recipe came from a facebook fan named Julie. She mentioned that she likes to cook chicken with salsa in her slow cooker, and man did I perk up and pay attention! She said that the chicken turns out very similar to pulled pork, so I just had to try it!
I have to say that this is one of my new, all-time favorite chicken dishes. With only 4 ingredients, it's so easy and so versatile. You could pair just about any fruit or veggie with this and it would taste amazing! Plus, the salsa I used (Salsa Autentica from Trader Joe's) ended up tasting more like barbecue sauce than salsa. Incredible!
Note: I was not paid to use the salsa I mentioned. It really do love this stuff.
YOU MIGHT ALSO ENJOY:

Clean Eating Slow Cooker Pineapple Chicken
(Makes 4 servings)
Ingredients:
2 large chicken breasts, boneless and skinless
1 (12 ounce) jar of your favorite clean salsa
4 small raw zucchini, halved, quartered, then sliced (shredding works too)
1/4 medium, fresh pineapple
Directions:
Turn on slow cooker to the low setting and put in the chicken and salsa. Cook for about 4-6 hours. Slow cookers vary, so base the time on that. The chicken should fall apart easily when finished.
Shred the chicken using two forks and mix in your raw zucchini and fresh pineapple.