This is one of those foods that I had never had before. Don't ask me why, but for some reason, my childhood just did not include Chicken and Dumplings. Therefor, neither has my adulthood.
But rest assured, I've seen the error of my ways! I made an entire 5 quart crock pot of this stuff, and it was gone in 1 day. Everybody had to have multiple bowls. We just couldn't stop eating it!! Even my munchkin liked it, and he's pretty tough to please these days.
So this is now officially a family favorite. I might even go so far as to say that this is my best recipe yet.
YOU MIGHT ALSO ENJOY:

Clean Eating Chicken And Dumplings Recipe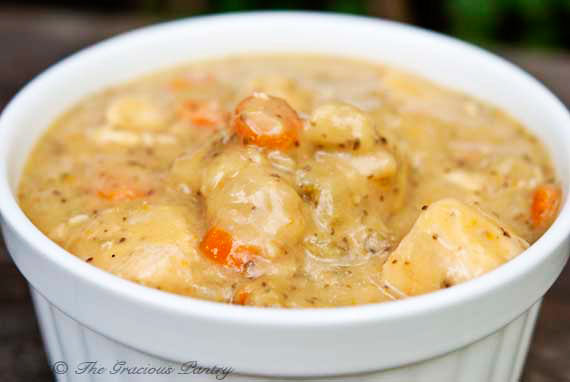 Author:
Tiffany McCauley | The Gracious Pantry.com
Yield:
Approximately 5 quarts
Ingredients
STEW INGREDIENTS:
6 cups low-sodium chicken broth (no sugar/dextrose added)
1 tablespoon marjoram
1 tablespoon garlic powder
4 boneless, skinless chicken breasts - cut into small chunks
2 tablespoons olive oil
1 large onion - peeled and diced
4 large carrots, peeled and sliced
4 stalks celery, cleaned and sliced
DUMPLING INGREDIENTS:
2 cups whole wheat pastry flour
1 tablespoon baking soda
½ teaspoon salt
3 tablespoons olive oil
1 cup milk (any milk you typically use is fine. I currently use unsweetened almond milk.)
Instructions
STEW DIRECTIONS:
Pour the broth into your crock pot (or into a large soup pot if cooking on a stove top).
Add the marjoram and garlic powder to the broth and turn the crock pot to high (stove top, bring to a slow boil)
In a pan, combine the olive oil, onion, carrots and celery. Saute until the onions are translucent.
Add the veggies and cut up chicken to the crock pot (or soup pot).
DUMPLING DIRECTIONS:
In a large mixing bowl, combine the flour, baking soda and salt. Whisk to blend well.
Pour in the oil and milk and mix with a wooden spoon.
(Be sure the broth is hot before adding the dumplings to the pot) Using two teaspoons, scoop up and round off your dumplings and scrap into your pot. (Just like making drop cookies)
STOVE TOP DIRECTIONS:
Boil until the dumplings and chicken are cooked.
SLOW COOKER DIRECTIONS:
I cooked this on high for about 3-1/2 hours. But if you need to cook it longer because you are leaving for the day (or cooking overnight), turn the slow cooker to low and cook until the dumplings and chicken are cooked through. (My guess is about 6 hours). It's important to know how your slow cooker cooks here. Every slow cooker is slightly different.
Also, the dumplings will look a little odd after they have been cooking at the top of the stew all day. They create a sort of "crust-like" cover. Just break them up with a wooden spoon and stir them into the stew to finish cooking. Simply break one open to be sure it's cooked all the way through.