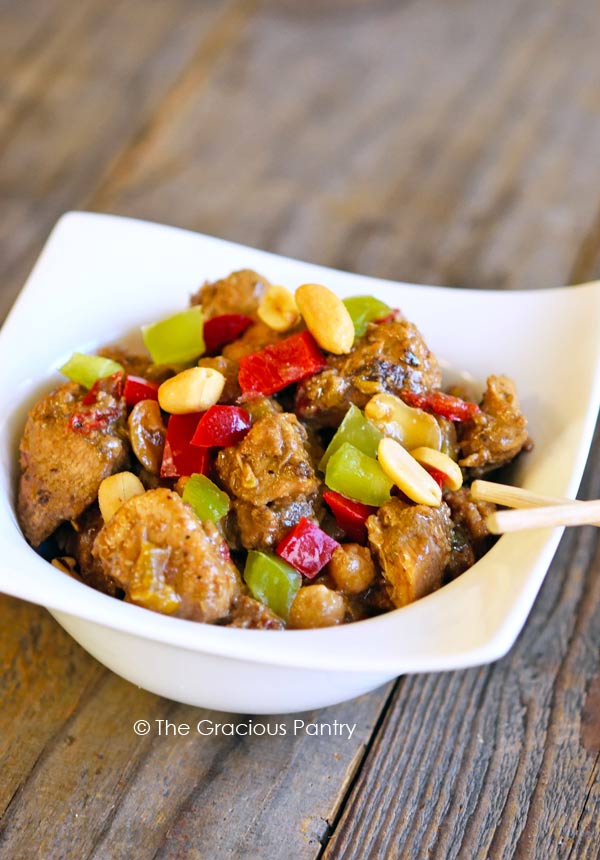 I don't eat a ton of Asian food simply because it's often so high in sugar and carbs. But I was really in the mood for some the other night, so I went searching for a recipe I could make at home. I ran across one from Serious Eats and went about the business of "cleaning it up".
So glad I did because it turned out really delicious!! It was even really good the next day re-heated.
While this does still have some sugar (honey) and carbs, it's a lot healthier than the more traditional version of this Americanized classic. In fact, Mini Chef never even got to taste this because I ate it all before he got home from his weekend with his dad. Ya, it was tasty.
At first glance, the recipe seems a bit daunting. But it's actually pretty easy to put together and many of the ingredients simply repeat. So don't let the list of ingredients keep you from giving it a try.
P.S. – You can "fry" this in chicken broth instead of oil to lower fat and calories if that is your preference.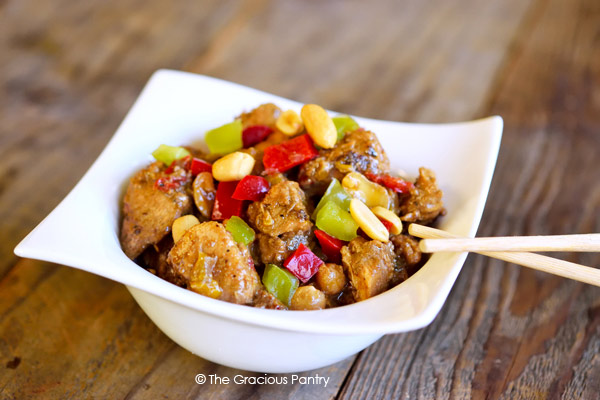 Recipe adapted from Serious Eats.
YOU MIGHT ALSO ENJOY:

Clean Eating Kung Pao Chicken Recipe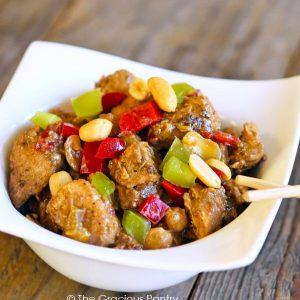 Author:
Tiffany McCauley | The Gracious Pantry.com
Ingredients
MARINADE INGREDIENTS:
2½ lb. boneless, skinless chicken breast, cut into bite-sized pieces
¼ tsp. ground black pepper
2 tsp. soy sauce OR coconut aminos
2 tsp. balsamic vinegar
1 tsp. honey
2 tsp. sesame oil
2 tsp. arrowroot powder OR organic cornstarch
SAUCE INGREDIENTS:
1 tbsp. soy sauce OR coconut aminos
1 tbsp. balsamic vinegar
1 tbsp. apple cider vinegar
1 tbsp. honey
1 tsp. sesame oil
2 tsp. arrowroot powder OR organic cornstarch
STIR FRY INGREDIENTS:
3 + tbsp. oil OR chicken broth as needed for cooking
1 large red bell pepper, diced
1 large green bell pepper, diced
1 large yellow bell pepper, diced
2 stalks celery, diced
1 tbsp. garlic powder
½ tsp. ground ginger
1 tsp. onion powder
2 tsp. crushed red pepper flakes (1 tsp. if you prefer mild spice, 3 tsp. if you prefer extra spicey)
½ cup salted peanuts
Instructions
Cut up the chicken and set aside.
In a large mixing bowl, combine all the marinade ingredients, add the chicken and stir well to coat the meat. Set in the refrigerator for about 20-30 minutes.
In a small to medium mixing bowl, combine all the sauce ingredients, whisking well to combine and set aside.
Prepare all the veggies and remaining spice and set nearby.
Once the meat is done marinating, transfer to a pan with either oil or chicken broth. Cook until chicken is browned completely.
Add the vegetables and spices and continue to cook for approximately 5-10 minutes, or until the chicken is fully cooked through.
Pour on the sauce and add the peanuts and stir well for about 1 to 2 minutes to thoroughly combine everything and allow the flavors to meld together.
Remove from heat and serve as is or over brown rice.