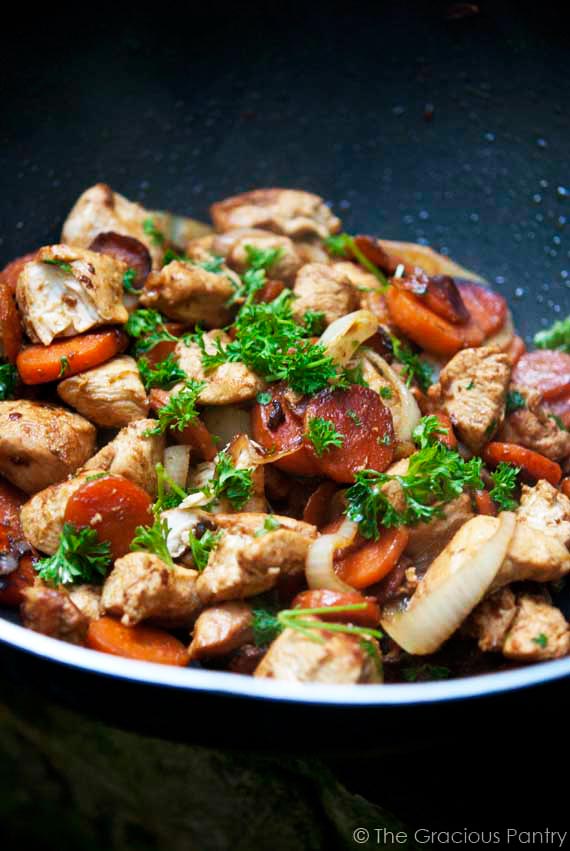 Cooking in Ireland this past May proved to be somewhat of a challenge. We were renting a self-catering apartment, so I had a full kitchen at my disposal. However…
Nobody stocked the spice rack in the kitchen, so I had to improvise with very little in the way of spices. But you know what, it worked out great! Particularly with this dish. We had it for dinner and it was quick and easy to put together. Just a little prep with your veggies and you'll have dinner on the table in about 30 minutes.
Eat this as is, or serve it over brown rice. It's a very filling and satisfying dish.
YOU MIGHT ALSO ENJOY:

Clean Eating Wok-Style Garlic Chicken & Carrots
(Makes 6 servings)
Ingredients:
6 garlic cloves, peeled and chopped
1 small yellow onion, peeled and sliced
3 large carrots, peeled and sliced thin
2 tablespoons olive oil
1 1/2 pounds boneless, skinless chicken breasts, chopped into stew-size pieces
1/4 cup fresh parsley for garnish, chopped or torn
Salt and pepper to taste
Directions:
Combine the garlic, onions and carrots in a wok, and cook until the onions are translucent.
Add the chicken and cook until the chicken is done and the carrots are somewhat soft.
Toss in parsley just before removing wok from heat.
Add salt and pepper to taste.