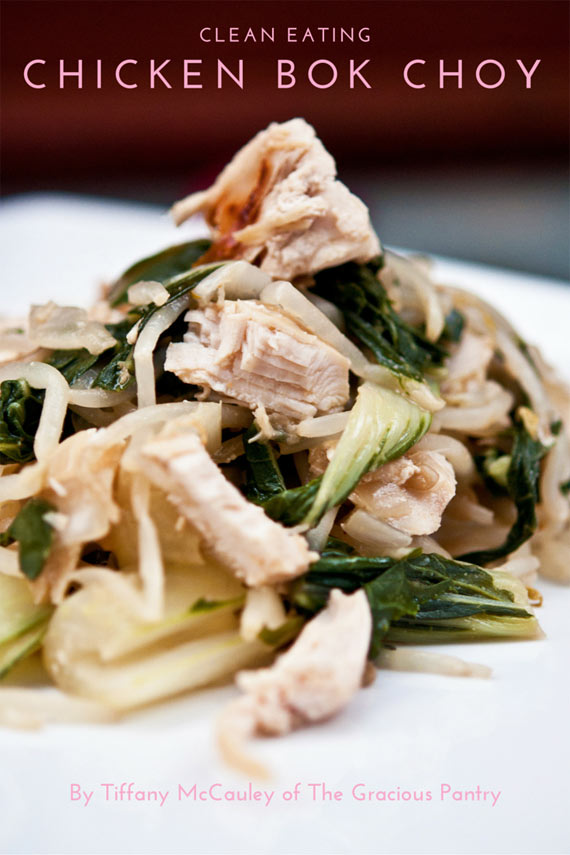 Bok choy is a fabulously sassy little vegetable. It's a variety of cabbage but it has those curvy little white hips and long, sultry, dark green leaves. I almost want to dress it up with some fire engine red lipstick and a faux diamond necklace. Oh! And maybe a Coach handbag.
Okay. So that might be a little weird…
…but I can honestly say that this is one of my better creations. It's a very engaging and gratifying dish. That addition of peanut butter punches you in the tongue with flavor, but doesn't seem to actually impart the flavor of peanut butter. It's magical!
And who knows, maybe I'll find a reason to dress up with that lipstick and diamond necklace. They are supposed to be a girl's best friend, right? Or was that the Coach handbag… hmmmm…
YOU MIGHT ALSO ENJOY: 

Clean Eating Chicken Bok Choy
(Makes approximately 8 servings)
Ingredients:
4 large chicken breasts, cooked and cut into small chunks (I used this recipe)
1 large bok choy, cleaned and chopped (the bigger the better)
1 large white or yellow onion, chopped
1 pound mung bean sprouts (found at most grocery stores in the produce section)
3/4 cup chicken stock (approximate measure)
1 tablespoon peanut butter – no sugar added
Directions:
In a pan, combine the bok choy, onion, bean sprouts and chicken stock. Cover and cook on high for 5-10 minutes or until the veggies have wilted and cooked down by almost half.
Remove lid and allow any liquid in the pan to cook down. A little is okay, but you don't want a lake.
Toss in the chicken and stir well.
Stir in the peanut butter. It will clump in the beginning, but if you keep stirring, it will disperse and cover everything nicely.
Remove from heat and allow to cool slightly.