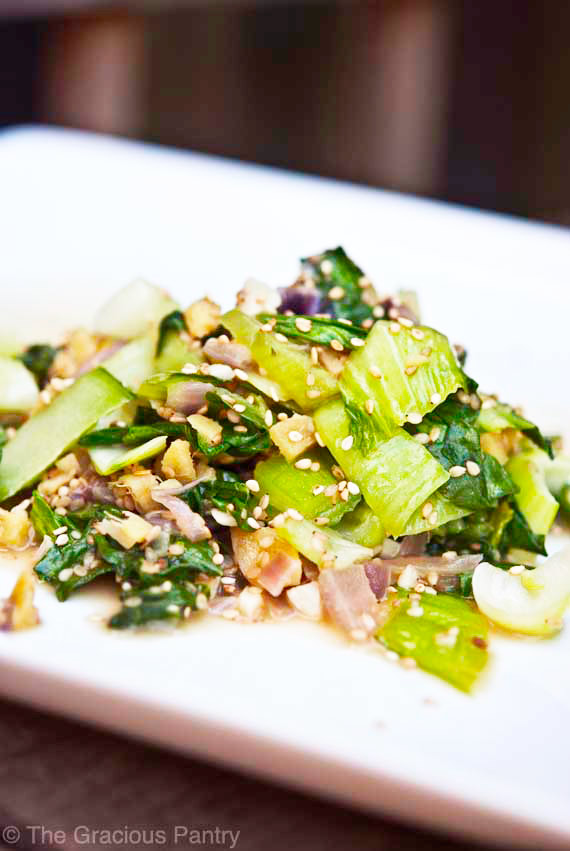 It has long been a long-held belief that bitter foods are good for the body. They strengthen the immune system, cleanse the blood and aid the liver in its daily duties. But while they may be good for us, they are not always pleasing to the palate. Bitter foods are often overlooked and ignored simply because so many people do not enjoy bitterness in their food.
But I'm here to tell you that bitter foods don't have to taste terrible. In the right combination, I think you'll find that bitter foods are a wonderful addition to your clean eating plan.
Here's a recipe to get you started.
YOU MIGHT ALSO ENJOY:

Clean Eating Ginger Bok Choy
(Makes 4 servings)
Ingredients:
3 bok choy
1/2 red onion chopped
1 tablespoon avocado oil (olive oil works too)
2 knuckles fresh ginger chopped
3 cloves garlic chopped
1/4 cup chicken broth, no sugar added (optional – adds a little flavor)
2 tablespoons sesame seeds
Directions:
In a large pan, sauté the onions, garlic and ginger in the oil.
When the onions are translucent, add the bok choy and sesame seeds to the pan.
If you are using the chicken broth, add it in the last 5 minutes of cooking. Allow it to cook down completely.
If you'd like to make this a complete meal, simply add some baked, cut-up chicken breast or a rice and bean combo.
Serving suggestion: Tastes best served with low sodium soy sauce or coconut aminos.