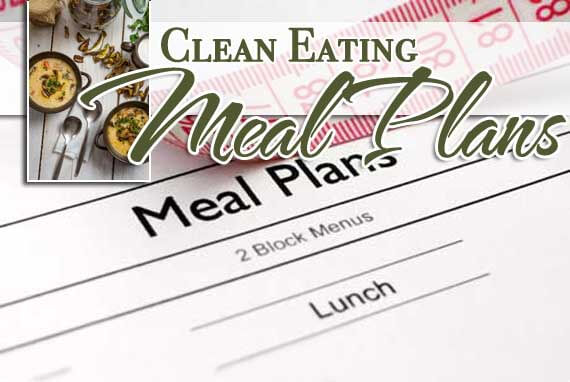 Many of you struggle with meal plans. Not only with creating them, but organizing them in a way so that the foods you prepare don't go to waste. Nobody wants to follow a meal plan that makes a dish once and forgets about it.
It's a new year, and for many of you, that means recommitting to your health goals. And one of the things that seems to help you the most is having a meal plan you can depend on.
I have put together a few sample meal plans here on my blog and even have a few $5 meal plans for sale. But I don't have as many to offer you as eMeals (affiliate link) does. They offer weekly plans for both clean eating and paleo!
Clean Eating Vs. Paleo
I've had many of you ask me which the better plan to follow is.
Here's an info graphic that should help you understand the basic differences between the two styles of eating.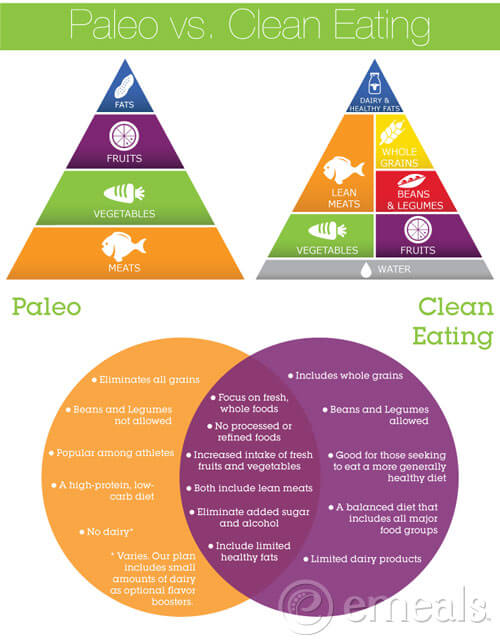 As you can see, there are some pretty stark differences. But the truth is, they are both methods of eating clean. Both plans avoid process foods, and both plans will help get you to your health goals. So how do you decide?
Truthfully, the best way to decide is to consider what will work best for not only your body, but your lifestyle. You need both to be in balance for a meal plan to work. You have to ask yourself if giving up grains will work for you and your lifestyle or if it will be nothing but a pain in rear. Because the truth is, you won't stick to it if it doesn't fit your life. So consider carefully.
For both plans you have to cook a lot. Both plans avoid sugars and other white, processed stuff. Both plans have been proven to improve health. So it really all boils down to what works best for YOU. Talk to your doctor or dietitian if you're really confused. And if you'd like to give some of the recipes a spin first, you can check out my blog in general for clean eating recipes as well as my paleo section.
I highly recommend signing up for eMeals. Even if you don't use all the recipes, it's a great way to see how organizing your meal plans can improve your health and save you money at the same time.
Signing up for eMeals has never been easier. Just click here (affiliate link) to be taken to the signup page. You can even switch back and forth between the two plans until you figure out which one works best for you. It's a win-win! And if you order through my affiliate links here, you'll also get a 15% discount by using the discount code, "GRACIOUS". I personally love my eMeals plan and I know you will too.
Disclaimer: I am working with eMeals. Any sales through the affiliate links provided return a small commission to me and this blog. All opinions are my own.